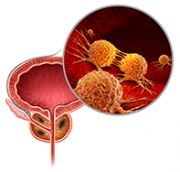 © LIGHTSPRING/SHUTTERSTOCK
Active surveillance for low-grade prostate cancer: high rate of discontinuation
By Melanie Hinze
Although the use of active surveillance (AS) for low­-grade prostate cancer increased significantly over seven years, discontinuation rates were high, a Canadian population­ based study published in The Journal of Urology has found.
Researchers identified all men diagnosed with Gleason Score ≤6 prostate cancer between January 2008 and December 2014, in Ontario, Canada. They found that AS was the initial management strategy for 51% (8541 men) of the study cohort and its use significantly increased during the study period, from 38% to 69%. However, after a median follow up of 48 months, 51% of patients (4337 men) had discontinued AS.
Men on AS were significantly older than those on definitive treatment (64 vs 62 years). Treatment­-free survival for patients on AS was 85%, 58% and 52% at one, three and five years, respectively.
The researchers found the median time to definitive treatment after AS was 16 months. AS discontinua­tion was more likely among men who were younger at diagnosis, had higher comorbidities and had adverse cancer-specific characteristics, such as higher prostate specific antigen (PSA), higher number of positive cores and higher percentage of core involvement at diagnosis.
Associate Professor David Smith, epidemiologist and senior research fellow at the Daffodil Centre, Sydney, said the study was interesting and relevant to the Australian situation.
'Its population­-wide approach is a strength, as it shows the real-­world experience of men with low­-risk prostate cancer,' he said.
Professor Smith said similar rates had been seen in Australia and New Zealand, with 71% of low­-risk patients undergoing AS in 2018, and this figure progressively increasing. Discontinuation rates were also similar in Australia.
Professor Smith said that a significant proportion of men with low-risk disease could be managed without initial radical treatment. 'However, keeping men safe and comfortable with the decision not to intervene is a process that requires a range of clinical, communication and supportive care skills,' he said. 'Informed decision making is at the heart of getting men com­fortable with active surveillance,' he added.
Professor Smith told Medicine Today that the missing parts of the Canadian paper were the drivers for discontinuation, not related to clinical factors, which can involve a lack of psychological support.