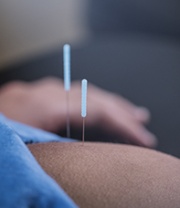 © BART SADOWSKI/SHUTTERSTOCK
Acupuncture may improve joint pain in women with early-stage breast cancer
By Nicole MacKee
Acupuncture may help to alleviate treatment-related joint pain in women with early-stage breast cancer, according to research published in JAMA.
The trial included 226 postmenopausal women with early-stage breast cancer who were on aromatase inhibitor therapy and had reported joint pain (at least three on the Brief Pain Inventory Worst Pain [BPI-WP] score), a common adverse effect of the treatment.
Trial participants were randomised to receive true acupuncture (110 women) or sham acupuncture (59 women), or to a waitlist with no intervention (57 women). The acupuncture groups had two acupuncture sessions a week for six weeks, followed by weekly sessions for a further six weeks.
The researchers found that at six weeks, the mean BPI-WP score in the true acupuncture group had decreased by 2.05 points, compared with decreases of 1.07 points in the sham acupuncture group and 0.99 points in the waitlist group. The adjusted difference for true versus sham acupuncture was 0.92 points, and for true acupuncture versus waitlist, 0.96 points.
The researchers acknowledged that the treatment effect did not reach clinical significance, which was prespecified as a two-point difference. But they said a post hoc analysis suggested that the proportion of patients who reported a two-point improvement in their pain score was greater in the true acupuncture group (58%) than in the sham acupuncture (33%) and waitlist (31%) groups.
Associate Professor Melanie Lovell, palliative care physician with HammondCare, Clinical Associate Professor of Medicine at The University of Sydney and Chair of The Working Party for the Cancer Council Australia's Australian Cancer Pain Management Guideline, said the finding was important.
'Acupuncture has minimum adverse events and [joint pain] is a significant problem for women with early-stage breast cancer on this therapy,' Associate Professor Lovell told Medicine Today.
Acupuncture was worth considering in any patient with early breast cancer whose quality of life was impacted by pain, or who was considering abandoning therapy due to pain, she said.
'Anything we can add to our armamentarium that isn't medication is really helpful.'
JAMA 2018; 320: 167-176.