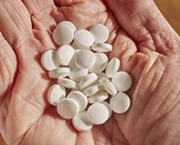 Add PPIs to aspirin for secondary prevention of ischaemic events in the elderly, study concludes
By Nicole MacKee
Older patients taking aspirin for secondary prevention of ischaemic vascular events should be coprescribed proton pump inhibitor (PPI) therapy to reduce the risk of gastrointestinal (GI) bleeding, say UK researchers who have found a steep increase in fatal and disabling bleeds after the age of 75 years.
In a prospective population-based study of 3166 patients taking antiplatelet therapy (mostly aspirin based) after a first transient ischaemic attack, ischaemic stroke or myocardial infarction, researchers identified 314 bleeds in patients requiring hospital admission over the 10-year study period.
They found that the annual rate of bleeds requiring hospitalisation increased from about 1.5% in the under-65 year olds, to about 3.5% in those aged 75 to 84 years, and to 5% in patients aged 85 years and older.
In patients aged 75 years and over, half of all major bleeds were upper GI bleeds, and most of these were disabling or fatal (62% in older patients compared with 25% in younger patients).
Writing in the The Lancet, the researchers said the risk of recurrent ischaemic events also increased with age, 'but the relative excess of ischaemic over major bleeding events diminished.' They concluded that PPI therapy – which can reduce the GI bleed risk by 70 to 90% in patients on long-term antiplatelet therapy – should be coprescribed with aspirin in patients aged 75 years and older taking aspirin for secondary prevention.
The author of an accompanying comment noted that the benefit–risk association in long-term antiplatelet therapy should be reviewed every three to five years in patients aged 75 years and over.
Professor John McNeil, Head of the School of Public Health and Preventive Medicine at Monash University, Melbourne, said the study was a reminder of the increased risk of drug side effects with age.
'[The study] reiterates something that we have known for quite a while; that the risk of bleeding from aspirin increases with age,' Professor McNeil told Medicine Today.
He said PPIs were an option in patients at high risk of a GI bleed, but advised caution in routinely prescribing these drugs to these older patients.
Professor McNeil said PPIs had been shown to be reasonably safe, but there was limited evidence of their safety over the long term.
'With any preventive drug, safety is the biggest issue, so until drugs have been tested in large-scale, long-term studies, we really don't know how they perform as preventive agents,' he said.
Professor McNeil, who is also coprincipal investigator in the ASPirin in Reducing Events in the Elderly (ASPREE) trial, said the results of this large trial would be finalised early in 2018, and would shed further light on the risks and benefits of aspirin in older people.
Lancet 2017; http://dx.doi.org/10.1016/S0140-6736(17)30770-5.
Lancet 2017; http://dx.doi.org/10.1016/S0140-6736(17)31507-6.
Picture credit: © Brian/stock.adobe.com