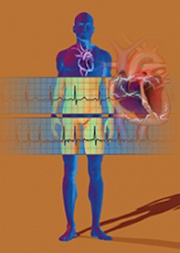 AF symptoms impact on quality of life but not mortality
By Bianca Nogrady
Nearly two­-thirds of patients with atrial fibrillation (AF) are symptomatic, and the severity of symptoms is significantly associated with quality of life but not mortality, new US data suggest.
A registry­-based observational study of 10,087 patients with AF found that 61.8% were symptomatic, and 16.5% had severe or disabling symptoms, according to data published in the journal Circulation: Cardiovascular Quality and Outcomes.
Patients with AF symptoms had a 23% greater risk of hospitalisation compared with those who were asymptomatic and a slightly higher risk of major bleeding over the 1.8 years of follow up. However, the study found no association between symptoms and other major adverse events, including death.
Patients with the lowest quality of life were more likely to be younger and women, to have a history of comorbidities such as peripheral vascular disease and to have new­-onset AF, but were less likely to have paroxysmal or longstanding persistent AF.
Commenting on the study, cardiologist Professor Ben Freedman said that although the study confirmed the link between symptom severity and quality of life, the finding of a link with hospitalisation was new and significant.
'The quality of life for people with AF, particularly when they are symptomatic, is not good and anything that will improve their quality of life, reduce their anxiety, and hopefully reduce their admissions and number of days in hospital would be worth­ while,' said Professor Freedman, Professor of Cardiology at the University of Sydney and Concord Repatriation General Hospital, Sydney.
Professor Freedman told Medicine Today that there is a 'disconnect' between symptoms and disease activity in AF.
'For example, in studies using implanted recorders – a number of studies have been doing this after ablation – some patients develop recurrent symptoms without AF, and others develop AF without recurrent symptoms,' Professor Freedman said.
Also, symptoms may not be closely connected with the factors that will either lead to death or cause complications such as stroke, so the lack of an association between symptoms and mortality is not surprising, he said.
However, this did not detract from the importance of treating AF symptoms.
'Interventions by cardiac nurses and multidisciplinary teams have been shown to reduce people's symptoms and also the number of days in hospital after the intervention,' Professor Freedman said.
'Both goals are important, and if you have to live with symptoms, reducing symptom severity and resultant anxiety can improve quality of life, which is really a crucial issue for patients.'
Circ Cardiovasc Qual Outcomes 2015, doi: 10.1161/CIRCOUTCOMES.114.001303.
Picture credit: © Phototake/Carol and Mike Werner/Diomedia.com