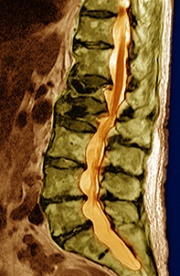 © SCIENCE SOURCE/DIOMEDIA.COM
Anticoagulant therapy effects on fracture risk in patients with AF
By Nicole MacKee
Patients with atrial fibrillation (AF) may be less likely to experience a fracture if their stroke risk is managed with a direct oral anticoagulant (DOAC) rather than with warfarin, researchers say in JAMA Internal Medicine.
In a US cohort study of more than 167,000 patients with AF (mean age, 69 years), the researchers found that new users of DOACs were at a modestly lower fracture risk than new users of warfarin (hazard ratio [HR], 0.93). Risk of hospitalisation for fractures was lower among DOAC users (HR, 0.87); however, the change in hip fracture risk was not statistically significant between the two groups (HR, 0.91).
The researchers compared patients on warfarin, with those on one of three DOACs (dabigatran etexilate, rivaroxaban and apixaban).
The strongest association with reduced fracture risk, relative to warfarin was found with apixaban (hip fracture, HR, 0.67; fractures requiring hospitalisation, HR, 0.60; and all clinical fractures, HR, 0.86).
The protective association with DOACs was also found to be more pronounced in patients with osteoporosis than in those without osteoporosis.
Associate Professor John Amerena, Director of Cardiology Research at Barwon Health, said the findings were interesting but unlikely to influence Australian practice.
'[For Australian clinicians], DOACs would be the treatment of choice for stroke prevention in patients with nonvalvular AF,' he said, noting that the findings were in line with recommendations in theAustralian Clinical Guidelines for the Diagnosis and Management of Atrial Fibrillation, which were released by the National Heart Foundation of Australia and the Cardiac Society of Australia and New Zealand in 2018.
'Warfarin should only be used in exceptional circumstances such as in severe renal dysfunction (creatinine clearance less than 25-30 mL/min), valvular heart disease (moderate-to-severe mitral stenosis) or prosthetic metallic valves.'
Although the researchers concluded that the findings added to speculation that warfarin may be harmful to bone health, Associate Professor Amerena said the jury remained out.
'There is lot of conflicting information about whether warfarin really does have any effect on bone metabolism, and [these findings] are not strong enough to recommend using DOACs in older patients to reduce fracture risk or in those with osteoporosis, but they do reinforce the commonly held belief that DOACs are better than warfarin for most people.'
JAMA Intern Med 2019; doi:10.1001/jamainternmed.2019.5679.