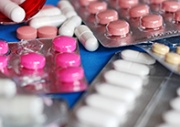 © MILANKUBICKA/STOCK.ADOBE.COM
Antidepressants' effectiveness in major depressive disorders confirmed
By Nicole MacKee
Debate about the effectiveness of antidepressants should now be settled, says an Australian expert, after a large international trial found that all antidepressants are more efficacious in treating major depressive disorders in adults than placebo.
Professor Malcolm Hopwood, Head of the Department of Psychiatry at the University of Melbourne, and President-Elect of the Asian Federation of Psychiatric Associations, said there had been an ongoing public debate about the effectiveness of antidepressants.
He said the large study, which summarised about 500 antidepressant double-blind trials and involved more than 116,000 patients, provided comprehensive evidence 'by any definition'.
In the systematic review and network meta-analysis published in The Lancet, researchers considered 21 antidepressants and placebo. They evaluated efficacy outcomes at eight weeks, as well as accept ability, which was measured using the drop-out rate by eight weeks.
The researchers found that all currently available antidepressants were more efficacious than placebo, with odds ratios (ORs) ranging from 2.13 for amitriptyline (95% credible interval [CrI], 1.89-2.41), down to 1.37 for reboxetine (95% CrI, 1.16-1.63).
In terms of acceptability, only agomelatine (OR, 0.84; 95% CrI, 0.72-0.97) and fluoxetine (OR, 0.88; 95% CrI, 0.80-0.96) were found to have lower drop-out rates than placebo.
Head-to-head trials showed seven drugs (agomelatine, amitriptyline, escitalopram, mirtazapine, paroxetine, venlafaxine and vortioxetine) to be more efficacious than other antidepressants, with ORs ranging from 1.19 to 1.96.
The authors of a comment accompanying the study noted that when both efficacy and tolerability scores were considered, three drugs emerged as preferable: agomelatine, escitalopram and vortioxetine.
Speaking to Medicine Today, Professor Hopwood said it was important to acknowledge that the study showed an overall average effect.
'It doesn't tell us how helpful an antidepressant will be for each individual patient. It also doesn't say that antidepressants work every time for everybody – we know that's not the case – but it clearly does support that, overall, these are helpful medicine  in the treatment of major depression.'
Professor Hopwood said the differences in efficacy and tolerability between compounds was of interest, but was not likely to guide treatment decisions.
'The main influence it will have will be increasing prescribers' confidence that antidepressants are effective, and generally well tolerated. The differences between the compounds in terms of efficacy and tolerability are only informative on the group level.'
He said the findings did not help doctors to predict which compound was going to suit which individual patient with any certainty, pointing to the researchers' comments that some of the differences between compounds needed to be interpreted with caution.
Lancet 2018; http://dx.doi.org/10.1016/S0140-6736(17)32802-7.
Lancet 2018; http://dx.doi.org/10.1016/S0140-6736(18)30421-5.