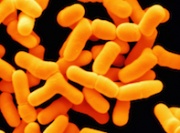 © SCIMAT/SPL. Bifidobacterium bifidum (SEM).
Are probiotics with nonviable bacteria beneficial for IBS?
By Nicole MacKee
Bacterial therapy may have a role in the management of irritable bowel syndrome (IBS), says a leading Australian gastroenterologist after researchers reported that treatment with nonviable Bifidobacterium bifidum improved symptoms.
In a double-blind, placebo-controlled trial, published in The Lancet Gastroenterology & Hepatology, 443 patients with IBS were assigned to eight-weeks' treatment with heat­-inactivated B. bifidum MIMBb75 (221 patients) or placebo (222 patients).
More than one in three patients in the treatment group (34%) met the study's primary endpoint – at least 30% improvement in abdominal pain and adequate relief of IBS symptoms for four weeks of the eight-week treatment period. In the placebo group, 19% of patients reported the same degrees of relief.
The industry-funded research also found that treatment with B. bifidum was well tolerated, with 91% of patients in the treatment group reporting good or very good tolerability, compared with 86% in the placebo group.
Professor Nick Talley, Distinguished Laureate Professor at the University of Newcastle and coauthor of an editorial accompanying the research, said while the study highlighted a possible role for bacterial therapy in the management of IBS, it had many limitations.
'The absolute gain [achieved with B. bifidum] over placebo was modest and even if symptoms did improve, almost certainly, they will come back once a patient has stopped taking the product,' Professor Talley told Medicine Today.
The study did suggest, however, that bacterial therapy had some benefits, Professor Talley said, noting that previous studies had also shown IBS symptom improvement with live B. bifidum.
'We need to better understand the role of microbes in gut disease so that we can provide much greater benefits for patients. These findings probably mean that cross talk between bacteria and the lining of the gut is critically important for at least some patients with IBS.' Professor Talley said.
'Typically, we have believed for probiotics that live organisms are required to have any therapeutic benefit, but this study suggests that it's the products that bacteria release – even when they are dead – that may be relevant. Exactly what that is though, remains unclear.'
Professor Talley said until the science was settled, there may still be a minor role for probiotics in the management of IBS.
'It is not unreasonable to prescribe a probiotic for IBS as one of your approaches, but it's also fair to say that it's trial and error about which one to prescribe,' he said. 'And while this is generally a safe approach, benefits are probably modest and, alone, probiotics are unlikely to be a panacea.'
Lancet Gastroenterol Hepatol 2020; https://doi.org/10.1016/S2468-1253(20)30056-X.
Lancet Gastroenterol Hepatol 2020; https://doi.org/10.1016/S2468-1253(20)30079-0.