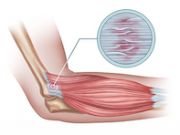 © ANDREA DANTI/SHUTTERSTOCK
Autologous blood or platelet-rich plasma injections for tennis elbow: 'no benefits over placebo'
By Nicole MacKee
Autologous blood or platelet-rich plasma (PRP) injections are no better than placebo in treating lateral elbow pain and should not be offered to patients for this and perhaps other conditions, a leading Australian researcher says.
Professor Rachelle Buchbinder, Rheumatologist and Director of Monash­ Cabrini Department of Musculoskeletal Health and Clinical Epidemiology, Melbourne, and colleagues, recently reviewed the benefit and safety of autologous whole blood or PRP injection therapy for people with lateral elbow pain (elbow tendinopathy or tennis elbow).
The review, published in the Cochrane Database of Systematic Reviews, included 32 studies with 2337 participants (aged 36 to 53 years).
The reviewers found that the therapy provided little or no clinical benefit for pain or function (moderate­-certainty evidence) when compared with placebo injection.
'Although risk for harm may not be increased compared with placebo injection (low­-certainty evidence), injection therapies cause pain and carry a small risk of infection,' the reviewers wrote. 'With no evidence of benefit, the costs and risks are not justified.'
Professor Buchbinder said the therapy, which was dropped from the Medicare Benefits Schedule in 2015, was still heavily marketed in Australia and was costly for patients.
'This treatment was introduced into widespread practice before there was high quality evidence to support its use. In this instance, even the usual preclinical and clinical phases of drug development were not followed. Previously, bodies such as the UK's National Institute for Health and Care Excellence in 2013 and the International Olympic Committee in 2010 noted that the evidence was inadequate in quantity and safety,' said Professor Buchbinder, adding that lateral elbow pain was self-limiting.
She said the reviewers did not find any placebo­-controlled trials that had a low risk of bias across all domains.
'As these studies could not show a benefit of the treatment, it is unlikely that unbiased studies would show any meaningful benefits,' she said. 'Also, based upon all the data in our review, there were no viable hypotheses suggesting that any particular subgroups would benefit.'
Professor Buchbinder said the procedure should not be offered for elbow tendinopathy, and the findings were also likely to apply to other tendinopathies as well as for pain due to osteoarthritis.
'Our review does not support continued use of this treatment,' she said. 'If clinicians do offer it, patients should be fully informed that the injections have been proven to provide no benefits over placebo.'
Professor Buchbinder said there were also regulatory questions to be answered around why the therapy was allowed to become widely marketed and used in the absence of rigorous evidence in the first place, and how to de­implement this therapy.
Cochrane Database Syst Rev 2021; (9): CD010951.