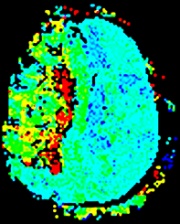 © SIMON FRASER/SPL. Stroke, functional MRI scan.
Benefits shown for short-term clopidogrel-aspirin therapy after TIA, minor stroke
By Nicole MacKee
Short-term combined clopidogrel-aspirin therapy is likely to have a greater role in secondary ischaemic stroke prevention, says an Australian expert after the results of a major trial were published in The New England Journal of Medicine.
In the Platelet-Oriented Inhibition in New TIA and Minor Ischemic Stroke (POINT) trial, 4881 patients with minor ischaemic stroke or high-risk transient ischaemic attack (TIA) were randomised to receive either clopidogrel at a loading dose of 600mg on day one, followed by 75mg daily, plus aspirin (50mg to 325mg daily); or aspirin (in the same dose range) plus placebo.
The trial found that at 90 days, major ischaemic events occurred in 5% (121 patients) of patients receiving clopidogrel plus aspirin and in 6.5% (160 patients) of those randomised to aspirin only. Most events occurred in the first week after the initial event. Major haemorrhage was reported in 0.9% (23 patients) of the clopidogrel-aspirin group and in 0.4% (10 patients) of the aspirin group.
The trial was halted early because prespecified limits for haemorrhage were exceeded. Most major bleeding events were nonfatal and nonintracranial.
Associate Professor Bruce Campbell, Head of Stroke at Royal Melbourne Hospital, said although the trial was halted because of the excess bleeding, the stroke prevention benefit was relevant as long-term consequences of stroke outweighed those of noncerebral bleeding events, which rarely caused disability.
'[POINT shows that] we need to treat about 67 patients to prevent one stroke, which is quite a strong effect for a secondary stroke prevention intervention,' said Associate Professor Campbell, who is also Chair of the Stroke Foundation's Clinical Council.
'The benefit of aspirin plus clopidogrel is accrued early with a 1.9% reduction in stroke within 30 days, particularly occurring in the first week. The excess major bleeding within the first month was 0.3%. Between 30 and 90 days, there was no additional stroke-prevention benefit but increased bleeding complications continued to accrue,' he told Medicine Today.
'One month of combined therapy – similar to an earlier trial that showed benefit of aspirin plus clopidogrel for three weeks in Chinese patients – has a better risk-versus-benefit profile than 90 days, and is likely to be the way this treatment enters guidelines and is implemented globally.' Importantly, he said, 'therapy was commenced within 12 hours of the event with a 600mg loading dose of clopidogrel, which will require system changes to promote rapid TIA assessment.'
N Engl J Med 2018; doi: 10.1056/NEJMoa1800410.