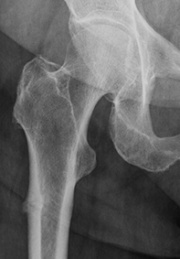 Bisphosphonates: fracture prevention benefits outweigh atypical femur fracture risk
By Rebecca Jenkins
The absolute risk of atypical femur fracture (AFF) with bisphosphonate treatment is low compared with reductions in the risk of hip and other fractures, a large prospective cohort study shows, although the risk–benefit balance is less favourable for Asian patients.
Using multivariable Cox models to analyse 10 years of data from a diverse US cohort of 196,129 women aged 50 years and over, researchers found decreases in the risk of osteoporotic and hip fractures during one to 10 years of bisphosphonate use far out­-weighed the increased risk of AFF among white women, but less so among Asian women.
'After 3 years, 149 hip fractures were prevented and 2 bisphosphonate atypical fractures occurred in Whites, as compared with 91 and 8, respectively, in Asians,' the study authors wrote in The New England Journal of Medicine.
Other risk factors for AFF included duration of bisphos­phonate treatment (particularly beyond five years of use), shorter height and glucocorticoid use for one year or more.
'Bisphosphonate discontin­uation was associated with a rapid decrease in the risk of atypical fracture,' they noted.
Dr Hanh Nguyen, consultant endocrinologist at Monash Health and Western Health, Melbourne, told Medicine Today the important data provided reassurance that the benefit of bisphosphonates for prevention of osteoporotic and hip fractures far outweighed the risk of rare bisphosphonate­-associated AFFs.
She said the risk–benefit of bisphosphonates may change over time, however, so clinicians should be alert for symptoms of incomplete AFFs (prodromal thigh pain). Clinicians could consider screening for incomplete AFFs after more than three to five years of treatment with recently available DXA­ derived single energy long femur scans, which may detect signs of an impending AFF.
Dr Nguyen said the increased risk found in Asian patients, which had been reported previously, could be related to ethnic differences in hip/femoral geometry, with Asians having more bowed femurs and increased mechanical load on the lateral femur.
'Genetic variations in pharmacokinetic processing of bisphosphonates between races has also been proposed,' she said.
'Further research in different ethnic groups to test these hypotheses is necessary, and given the rarity of AFFs, international collaborative efforts are needed. I would like to see research findings translated into a screening tool, whereby clinicians may be able to identify individuals at very low risk of AFFs, so that bisphosphonate therapy can be safely and confidently continued.'
Although the risk–benefit remained in favour of bisphos­phonates for Asian patients, Dr Nguyen recommended closer monitoring for AFFs in this group, such as earlier screening for incomplete AFFs at three years and considering appropriate 'drug holidays' once a patient's risk for osteoporotic/hip fractures was low.
N Engl J Med 2020; 383: 743-753.