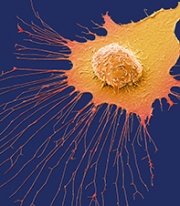 Breast cancer metastasis risk remains high for 10 years after childbirth
By Melanie Hinze
A diagnosis of breast cancer at up to 10 years postpartum is associated with an increased risk of metastasis, according to a US cohort study published in JAMA Network Open.
The study, of 701 women aged 45 years or younger with breast cancer, found that the risk of distant metastases was increased about two fold in those whose breast cancer was diagnosed within 10 years of childbirth compared with women who had never given birth. The risk was greatest for postpartum women with stage I or II cancer at diagnosis, with a 3.5-fold to five-fold higher risk of metastasis than that in nulliparous women. Additionally, the increased risk was present for both oestrogen-receptor-positive or oestrogen-receptor­ negative cancers, although oestrogen­-receptor-negative cancer seemed to compound this risk.
'The data highlight recent childbirth as an identifiable biomarker that may be useful for determining prognosis of young women's breast cancers,' the study authors wrote.
Professor Fran Boyle, Director of the Patricia Ritchie Centre for Cancer Care and Research and Professor of Medical Oncology at The University of Sydney, said these results suggested that health­ care providers should be taking more focused parity histories in young patients with breast cancer when considering prognosis and adjuvant therapy.
'This phenomenon becomes more important as many women are delaying childbearing into their later 30s and 40s, when breast cancer becomes more common and screening is less effective than in postmenopausal women,' she said.
The study authors were in agreement, writing that this, combined with the fact that up to 45% of all young women's breast cancers were diagnosed within 10 years of a childbirth, suggested that poor-prognostic postpartum breast cancer was an increasing problem that merited more dedicated research.
Professor Boyle said that exactly which biological factors accounted for this phenomenon remained unclear.
'RANK and RANK ligand are essential in breast remodelling in pregnancy and are also involved in breast cancer initiation and bone metastasis.
Angiogenic pathways are under investigation, as they are activated in pregnancy and breast cancer; while immune modulation is also of interest.'
She noted that these pathways lent themselves to pharmacological targeting with existing anticancer agents.
'Emerging clinical trials in young women will need to control for differences in parity which may influence outcome,' she added.
JAMA Network Open 2019; 2: e186997;
doi:10.1001/ jamanetworkopen.2018.6997.