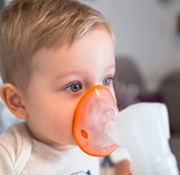 Childhood asthma linked to increased left ventricular mass in adulthood
By Bianca Nogrady
Childhood asthma may be associated with increased left ventricular mass in adulthood, particularly among individuals with prehypertension or hypertension.
Writing in the Journal of the American College of Cardiology: Heart Failure, US researchers reported the findings of their prospective longitudinal study of 1118 individuals – 9.3% of whom reported a history of childhood asthma – who were followed for about 10 years.
They found that people who had had asthma since childhood had a significantly greater left ventricular mass and left ventricular mass index, which is mass indexed for height.
This difference persisted even after adjustment for potential confounders such as age, sex, smoking status, antihypertensive medication, heart rate, systolic blood pressure, body mass index and high-sensitivity C-reactive protein level.
The association between childhood asthma and left ventricular mass was even stronger among participants with prehypertension and hypertension compared with those with normal systolic blood pressure.
'Our findings are consistent with those of previous studies in which asthma was related to other CV subclinical markers reflecting arterial stiffness in adults, such as carotid artery intimal media thickness and pulse wave velocity,' the researchers wrote.
Previous observational studies have also found that people with asthma appear to have an increased risk of cardiovascular disease and death, they noted.
However, respiratory physician Dr Greg King from Sydney's Royal North Shore hospital said there were some problems in interpreting these studies, in particular the difficulties in distinguishing between asthma and COPD, the latter being strongly related to increased mortality.
Dr King told Medicine Today the research suggested greater attention needs to be paid to patients with both asthma and hypertension.
'We need to treat the hypertension well, particularly if patients have severe asthma,' said Dr King, who is also Research Leader at the Woolcock Institute and Conjoint Professor of Respiratory Medicine at The University of Sydney.
Dr King said that although the mechanisms of the association were not well understood, he speculated that prednisone treatment for more severe asthma may play a role.
'Prednisone has a lot of side effects, including increased blood pressure, increasing weight and increasing blood sugar, so that increase in those metabolic syndrome markers will potentially have an adverse effect on the myocardium,' he said.
'This is another additional point that adds to the importance of assessing asthma properly to find severe asthma and treating it properly, which in many cases would benefit from specialist referral.'
JACC: Heart Failure 2017; 5: 497-504; doi: 10.1016/j.jchf.2017.03.009.
Picture credit: © Patryk Kosmider/stock.adobe.com
Model used for illustrative purposes only