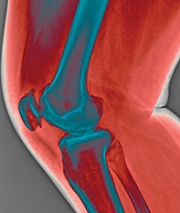 Is chondroitin as effective as celecoxib for knee osteoarthritis?
By Jane Lewis
Pharmaceutical-grade chondroitin sulfate is superior to placebo and similar to celecoxib in reducing pain and improving function in patients with symptomatic knee osteoarthritis (OA), and should be considered a first-line treatment in the medical management of knee OA, new research published in the Annals of the Rheumatic Diseases suggests.
According to the authors of the study – the ChONdroitin versus CElecoxib versus Placebo Trial (CONCEPT) – the 'compelling benefit–risk profile' of pharmaceutical-grade chondroitin sulfate underscores its potential importance in the management of knee OA, especially in patients requiring long-term treatment.
In the prospective, randomised trial, 604 patients with knee OA were followed for 182 days, during which a dose of 800 mg/day pharmaceutical-grade chondroitin sulfate was found to be 'superior to placebo' and 'similar to celecoxib' across multiple outcome measures, including pain reduction as measured on a Visual Analogue Scale (VAS) and in the Lequesne Index (LI).
In the intention-to-treat population, the chondroitin group and the celecoxib group had significantly greater pain reduction (by VAS value) at day 182 than the placebo group (–42.6 mm, –39.5 mm and –33.3 mm, respectively), with no significant difference observed between chondroitin and celecoxib. Similar results were observed for reduction in LI score (–4.7 and –4.6 for chondroitin sulfate and celecoxib, respectively, compared with –3.7 for placebo) and for the secondary endpoints of Minimal-Clinically Important Improvement and Patient-Acceptable Symptoms State.
Speaking to Medicine Today, Professor David Hunter, Professor of Medicine at The University of Sydney and Royal North Shore Hospital, and consultant rheumatologist at North Sydney Orthopaedic and Sports Medicine Centre in Sydney, said the study was 'reasonably well done' and was 'receiving a lot of attention.'
'The results of the study show that chondroitin is similar to [celecoxib] for symptomatic outcomes in people with knee osteoarthritis,' he said. 'However, there is a big placebo effect, and the magnitude of difference between the placebo effect and the chondroitin effect, to my mind, is not clinically meaningful.'
'Chondroitin is relatively safe, cheap, and readily available in Australia, but I'm not sure it merits the attention it's getting. I believe there is a host of other therapies that are better, which we should be recommending to our patients as first-line treatments. These include weight loss, exercise and using braces.' Even other supplements 'have a potentially bigger effect than chondroitin,' he added.
Ann Rheum Dis 2017; doi: 10.1136/annrheumdis-2016-210860.
Picture credit: © Michel Brauner/SM/SPL