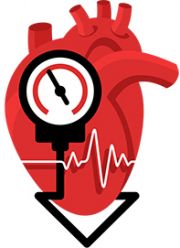 © DMITRY KOVALCHUK/SHUTTERSTOCK
Consider blood pressure lowering in all people at increased CVD risk
By Nicole MacKee
A more liberal approach to antihypertensive therapy will help to reduce cardiovascular (CV) events in all people with elevated CV risk, regardless of their blood pressure values or history of CV events, says an Australian expert.
Professor Markus Schlaich, President of the High Blood Pressure Research Council of Australia, said blood pressure lowering should be considered in all patients with elevated risk, irrespective of their absolute blood pressure level.
'Blood pressure is the single most modifiable cardiovascular risk factor, particularly in those with increased cardiovascular risk,' he said. 'It is one of the most effective means of lowering cardiovascular risk.'
Professor Schlaich was commenting on UK research – conducted by the Blood Pressure Lowering Treatment Trialists' Collaboration and published in The Lancet – that showed that reducing systolic blood pressure by 5mmHg using pharmacolo­gical therapy lowered the relative risk of a major CV event by 10%, irrespective of previous diagnoses of CV disease. The effects were seen across a range of blood pressure values, with benefit shown even at normal and high­-normal blood pressure levels.
The meta­-analysis evaluated participant­-level data for almost 350,000 participants from 48 randomised trials, with an average follow up of four years. The mean age of participants was 65 years.
The researchers found the greatest risk reductions were for stroke (13%) and heart failure (13%), with reduced risk also reported for ischaemic heart disease (8%) and CV disease death (5%).
Professor Schlaich, who is also on the Executive Committee of the International Society of Hypertension, described the study as 'very important and relevant'.
'[The researchers] have looked at patients with or without evidence of previous cardiovascular disease and the effects were essentially identical whether you used blood pressure lowering for primary or secondary prevention,' he said. 'The effect is substantial.'
Professor Schlaich said the study evaluated the effects across a range of blood pressure levels – from optimal to high.
'No matter where your baseline blood pressure is, if you lower blood pressure by [5mmHg], you will get a significant reduction in cardiovascular risk.'
Professor Schlaich noted, however, that blood pressure measurement remained important.
'These findings do not diminish the need to measure blood pressure in practice; this is still extremely important,' he said. 'Obviously, if a patient has very high blood pressure, you lower the blood pressure anyway; but in patients with blood pressure in the normal range, if they have elevated risk, you should lower the blood pressure further.'
Lancet 2021; 397: 1625-1636.