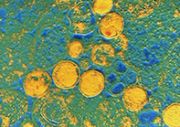 Doxycycline favoured for rectal chlamydia in men who have sex with men
By Rebecca Jenkins
A seven-day course of doxycycline is superior to a single dose of azithromycin for treating rectal chlamydia in men who have sex with men, Australian research shows.
In the double-blind trial, researchers randomised 625 men who have sex with men and who had asymptomatic rectal chlamydia to either doxycycline 100 mg twice daily for seven days or a single dose of azithromycin 1 mg.
Results from a nucleic acid amplification test for rectal chlamydia at four weeks were available for 290 men (92.4%) in the doxycycline group and 297 (95.5%) of the azithromycin group.
In the doxycycline group, 281 of 290 men (96.9%) had a negative test result (i.e. microbiological cure) compared with 227 of 297 men (76.4%) in the azithromycin group, for an adjusted risk difference of 19.9 percentage points, researchers reported in The New England Journal of Medicine.
Lead author, Professor Jane Hocking, Head of the Sexual Health Unit at the Melbourne School of Population and Global Health, University of Melbourne, said the findings gave support to doxycycline becoming the first-line treatment for chlamydia infection at any infection site for men and women.
'Several countries have already changed their guidelines for treating rectal chlamydia to recommend doxycycline as first-line treatment. Australia and the US are currently revising their guidelines and it is likely that these will also change to doxycycline as first line,' she told Medicine Today.
'Meta-analyses have shown that doxycycline is slightly more efficacious than azithromycin for urogenital chlamydia infection.
There are few data available investigating treatment efficacy for pharyngeal chlamydia, but there are no concerns about doxycycline efficacy at this site. Given this, it is prudent that guidelines now recommend doxycycline as first-line treatment for chlamydia infection at any infection site.'
Previous studies had shown rectal chlamydial load was similar between the sexes and observational data showed comparable treatment efficacy in men and women, she added.
'There is also evidence that women with urogenital chlamydia infection can also acquire a rectal chlamydia infection through auto-inoculation that may occur during toileting or sex. Given this, it is important that they are treated with doxycycline to ensure that both their urogenital and rectal infections are treated effectively,' Professor Hocking said.
Azithromycin would still have a place in treating chlamydia, particularly for pregnant women, in patients with an allergy to doxycycline and in patients where there are serious concerns about compliance to a seven-day doxycycline regimen.
It had been suggested that larger doses of azithromycin might be more effective, Professor Hocking noted, but she warned this approach needed to be balanced against the increased risk of side effects such as diarrhoea, which was significantly more common in the azithromycin group in the latest study.
It was also likely that the widespread use of azithromycin for chlamydia had contributed to resistance in other STIs such as gonorrhoea, syphilis and Mycoplasma genitalium infection that may coexist with chlamydia, providing yet more reason to replace azithromycin with doxycycline, she said.
N Engl J Med 2021; 384: 2418-2427.