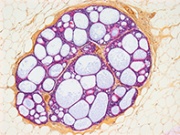 © STEVE GSCHMEISSNER/SPL. Ductal carcinoma in situ (light micrograph).
Ductal carcinoma in situ linked with higher risk of invasive breast cancer, death
By Melanie Hinze
Women with ductal carcinoma in situ (DCIS) detected by screening have more than double the rate of invasive breast cancer and death from breast cancer than women from the general population, according to research published in the British Medical Journal.
Researchers reported that these increased rates were evident for at least two decades after DCIS diagnosis.
In women who had breast conserving surgery, the rates were lower if they also had radiotherapy. Larger surgical margin widths were also associated with lower rates, as was endocrine treatment for women with oestrogen-receptor-positive disease. The lowest rates were seen in women who had mastectomy.
The study included 13,606 women with DICS who were followed for up to five years, 10,998 who were followed for five to nine years, 6861 for 10 to 14 years, 2620 for 15 to 19 years and 939 for at least 20 years.
Among these women, the incidence rate of invasive breast cancer was 8.82 per 1000 women per year, which was more than double that expected in the general population. The death rate was 1.26 per 1000 women per year, which was 70% higher than that expected among the general population.
Professor Boyages AM, radiation oncologist at ICON Cancer Centre Wahroonga, Sydney, and author of DCIS of the Breast: Taking Control, said, 'This is an important study which shows that even for low-to-intermediate grade DCIS, the risk of a future breast cancer is much higher than in the general population.'
He noted that in this study, more than 2000 women were subsequently diagnosed with invasive breast cancer and 15% died of their disease.
'Breast screening has been accused of overdiagnosis of DCIS, but the reality is that effective treatment such as radiotherapy after a lumpectomy can pre­serve the breast and save lives,' he told Medicine Today.
BMJ 2020; 369: m157; http://dx.doi.org/10.1136/bmj.m1570.