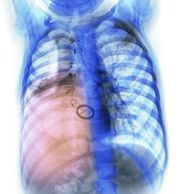 Fewer pneumonia but more empyema hospitalisations after 13-valent pneumococcal conjugate vaccine introduced
By Dr Emily Lathlean MB BS, FRACGP
Australian researchers have found a reduction in childhood pneumonia hospitalisations but an increase in childhood empyema hospitalisations since the introduction of the 13-valent pneumococcal conjugate vaccine (13vPCV) to the Australian National Immunisation Program (NIP).
The replacement of the 7-valent pneumococcal conjugate vaccine (7vPCV) with 13vPCV on the NIP in July 2011 extended cover to six additional Streptococcus pneumoniae serotypes (ST): 1, 3, 5, 6A, 7F and 19A.
In this study, published in Thorax, researchers compared the incidence rates of national hospitalisations for childhood empyema and childhood pneumonia from June 2007 to May 2011 (7vPCV period) and June 2012 to May 2017 (13vPCV period). They also examined blood and pleural fluid cultures and pleural fluid polymerase chain reaction testing from 401 children hospitalised with empyema during the 13vPCV period and compared these with findings from a previous study undertaken in the 7vPCV period.
Following the 13vPCV introduction, there was a 21% reduction in hospitalisations of children with bacterial pneumonia and a 25% increase in childhood empyema hospitalisations. S. pneumoniae serotypes were identified in 161 empyema cases during the 13cPCV period, 147 of which were vaccine serotypes. ST3 accounted for more than double the identified serotypes in the 13vPCV period than in the 7vPCV period.
Study coauthor, Professor Peter McIntyre, Infectious Diseases Paediatrician, Public Health Physician and Epidemiologist from the University of Otago, New Zealand, said empyema 'is the most clinically severe manifestation of pneumonia, which, although it only accounts for 1 to 2% of cases, can be associated with ICU [admission] or death.'
The researchers suggested possible explanations for the observed increase in empyema hospitalisations could include an increased prevalence of ST3, which had a predilection for infection of the pleural space, and suboptimal protection of 13vPCV against ST3.
They also speculated that the 2018 change in NIP scheduling from 2, 4 and 6 months ('3+0') to 2, 4 and 12 months ('2+1') could be a factor, as other studies had found pneumococcal immunity to wane by 13 months in children vaccinated with a '3+0' schedule.
'The only country using ST3 which has found any significant effectiveness against ST3 is [the] US, which is also one of very few countries still using a "3+1" schedule. Whether this finding is due to that extra dose or other factors is unclear,' Professor McIntyre said. 'However, this could be taken as a timely reminder to ensure that Aboriginal and Torres Strait Islander children in the NT, Qld, SA and WA continue to receive the "3+1" schedule, as well as children with higher susceptibility to invasive pneumococcal disease due to other medical conditions.'
Thorax 2021; 0: 1-7; doi:10.1136/thoraxjnl-2020-216032.