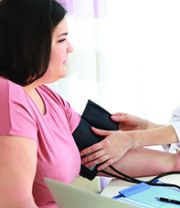 © NEW AFRICA/STOCK.ADOBE.COM. MODEL USED FOR ILLUSTRATIVE PURPOSES OLNLY
First Australian consensus statement released for young adults with type 2 diabetes
By Dr Emily Lathlean MB BS, FRACGP
The first ever Australian consensus statement on the management of type 2 diabetes in young adults has been released.
The statement, published in the Medical Journal of Australia, was developed following reviews of existing literature by a working group of Australian experts, led by Professor Jencia Wong, Senior Staff Specialist at the Diabetes Centre, Royal Prince Alfred Hospital, and Clinical Professor at The University of Sydney.
'Current guidance has served us well but is directed mainly towards older adults,' Professor Wong told Medicine Today. 'So now, with increasing numbers, it is timely that there is a perspective specific for young adults with type 2 diabetes. This is important as type 2 diabetes is more aggressive in young people, physiological responses differ from that seen in older adults, and all this is occurring at a life-stage characterised by social and economic transition.'
Professor Wong said the specific needs of this demographic included diagnostic challenges specific to youth, the potential effects on reproduction, the need for 'tighter' targets in glucose control and cardiovascular disease risk factors, and specific psychological health, social and educational needs that differ from those of older adults.
The consensus statement advocated screening for type 2 diabetes in young adults who were overweight or obese in the presence of other risk factors, including a maternal history of type 2 diabetes or gestational diabetes during an individual's gestation, type 2 diabetes in a first-degree relative, clinical evidence of insulin resistance (such as polycystic ovary syndrome and dyslipidaemia), use of antipsychotic medications and high-risk ethnicity (such as Aboriginal and Torres Strait Islander).
The consensus statement provided guidance for pharmacotherapy choices and treatment targets in young adults with type 2 diabetes – including a glycated haemoglobin target of 6.5% or less and a blood pressure target of less than 130/80 mmHg – as well as for psychosocial care, diet and physical activity.
'As lifetime risk of complications is high and lifestyle measures may be less effective in young adults, clinicians should not wait to intensify treatment,' Professor Wong said. 'In addition to primary care, referral to specialist care teams is recommended where possible. However, it should be emphasised that this recommendation does not at all preclude or diminish the important role of primary care.'
She said GPs always played an essential role in screening for diabetes, diagnosis and providing additional support and education, particularly with respect to the areas of mental health, contraception and pregnancy.
'GPs provide continuity of care in the context of family, especially during transition periods and facilitate access to multidisciplinary care, all essential to improving outcomes for young adults living with type 2 diabetes.'
Med J Aust 2022; doi: 10.5694/mja2.51482.