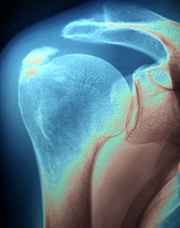 Frozen shoulder: study supports early use of intra-articular corticosteroids
By Dr Emily Lathlean, MB BS, FRACGP
A systematic review and meta-analysis has found intra-articular corticosteroid injection (IACI) to be superior to other nonsurgical treatments for patients with frozen shoulder.
In their study, published in JAMA Network Open, UK researchers compared the efficacy of nonsurgical treatments for frozen shoulder (adhesive capsulitis) in 65 studies with 4097 participants. They found in pairwise meta-analyses that IACI was associated with statistical and clinical superiority for short-term improvement in pain and function, with benefits lasting up to six months.
'This is an important study of a common condition,' said Associate Professor Julian McNeil, Head of Rheumatology in the Northern Adelaide Local Health Network. '[Frozen shoulder] is a clinical diagnosis due to the lack of specific imaging findings, and for which a number of treatment modalities compete and clinical studies are difficult.'
The researchers noted that current UK guidelines recommended a stepped approach, starting with physiotherapy, and consideration of IACI if there was minimal progress. However, their findings supported the early use of IACI, and they recommended it be offered at the first visit, ideally accompanied by a home exercise program (with simple range of movement exercises and stretching). 
The researchers found that the combination of IACI and physiotherapy was associated with significant benefits compared with either treatment alone and suggested physiotherapy be used instead of IACI in patients with contraindications to IACI.
'The question of the benefit of 'physiotherapy' is more complex', cautioned Associate Professor McNeil. 'It is defined in the study as the modalities applied by the physiotherapist at the visit as opposed to ongoing home range of motion exercises. Most clinicians who refer their patient with frozen shoulder to the physiotherapist would expect the physiotherapist to instruct in ongoing range of movement exercises to be done at home and it is the latter which is recommended in the study. We should not be discouraged from physiotherapy referral but need to stress instruction in ongoing home exercises.'
The benefits of adding arthrographic distension to IACI were, after pairwise meta-analysis, found to be probably not clinically significant.
Although surgical options were not evaluated in the study, Associate Professor McNeil noted that interventions such as manipulation under anaesthetic and arthroscopic release may be beneficial in the long-standing and unresponsive case.
'The challenge is now for the statistical justification for these interventions to be found,' he said.
JAMA Network Open 2020; 3: e2029581; doi:10.1001/jamanetworkopen.2020.29581.