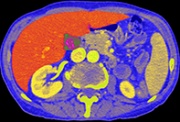 Gallstones may be independently linked to coronary disease
By Bianca Nogrady
Gallstones are associated with an increased risk of coronary heart disease (CHD), independent of traditional risk factors, according to data from several prospective cohort studies and a meta-­analysis.
Researchers followed 269,142 participants from the Nurses' Health Study, Nurses' Health Study II and the Health Professionals Follow­-up Study, and found those with a history of gallstone disease had a significant 11 to 15% higher risk of CHD, after adjusting for potential confounders such as family history, smoking, body mass index, diabetes and hypercholesterolaemia.
This association remained significant for both a history of gallstones and for cholecystectomy, researchers have reported in Arteriosclerosis, Thrombosis, and Vascular Biology.
Secondary analysis of the data revealed some interactions with age and CHD subgroup definitions: there was a significant 14% increase in the risk of myocardial infarction in older women with a history of gallstone disease who participated in the Nurses' Health Study but this was not seen in younger women in the Nurses' Health Study II or in men in the Health Professionals Follow-­up Study.
'Gallstone disease and CHD share many common risk factors, and it has been challenging to disentangle these shared risk factors from potentially causally linked pathogenesis,' the authors wrote.
Commenting on the study, cardiologist Professor Tom Marwick said the idea of a link between gallstones and coronary disease had been around for some time, but he questioned whether it was a causal relationship.
'They've done the best they could in this study to tease out the contribution of the common risk factors, but we know that there are other risk factors that we don't measure,' said Professor Marwick, Director of the Baker IDI Heart and Diabetes Institute.
'There are other things that are important in gallstone disease; for example, those folk are more commonly overweight and it's likely that they are insulin resistant, and that could be the link between the two.'
The study's authors also drew attention to possible mediation by gut microbiota dysbiosis, which is linked to gallstones and a range of metabolic disturbances including obesity and cardio­ vascular disease.
Professor Marwick told Medicine Today that the findings were 'hypothesis­-generating' and could inform further research into how to address the link.
'If gallstones are independently associated with coronary disease, even after taking account of risk factors, then maybe people who have had a cholecystectomy or have known gallstones should have some sort of screening for coronary disease,' he said. 'That's where we might want to go eventually – but this observational study doesn't justify that conclusion.'
Arterioscler Thromb Vasc Biol 2016; doi: 10.1161/ATVBAHA.116.307507.
Picture credit: © Phototake/Philippe Dacle/Diomedia.com. Large gallstone (pink) in the gallbladder.