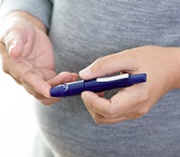 Gestational diabetes increases risk of heart disease as well as type 2 diabetes
By Jane Lewis
Women with gestational diabetes mellitus (GDM) are not only at very high risk of developing type 2 diabetes, but also have a significantly increased risk of hypertension and ischaemic heart disease (IHD), finds a large UK cohort study.
Targeting cardiovascular risk factors in such women in general practice could improve long-term outcomes, the study's authors suggested.
Speaking to Medicine Today, Associate Professor Rohina Joshi, Senior Research Fellow in the Office of the Chief Scientist at The George Institute for Global Health, University of New South Wales, Sydney, said the study added to the growing evidence about the link between GDM and heart disease, and had public health implications for the increasing population of women with a history of GDM.
Published in PLOS Medicine, the study used a large primary care database to identify 9118 women diagnosed with GDM and randomly matched them by age and timing of pregnancy (up to three months) with 37,281 control women. Women with GDM were found to be more than 20 times more likely to develop type 2 diabetes (adjusted incidence rate ratio [IRR], 21.96), 2.78 times more likely to develop ischaemic heart disease and 1.85 times more likely to develop hypertension. The increased risks persisted throughout the 25-year follow-up period, the authors reported.
The study also investigated follow-up screening in women with GDM, finding that less than 60% of such patients were screened for type 2 diabetes in the first year postpartum, with screening 'rapidly declining' after this time. Screening rates were 'far lower' for cardiovascular risk factors than for type 2 diabetes, and women with GDM were no more likely to be assessed for hypertension and smoking than the control group in years 2 and 3 postpartum.
'Heart disease is the leading cause of death among Australian women,' commented Associate Professor Joshi. 'Complications in pregnancy, such as GDM and high blood pressure, increase the risk of heart disease later in life. While women are sent reminders, and screened for diabetes after giving birth, international studies indicate that the follow-up screening rates are less than 60% a year after having a child. The study shows it is important to make women aware of the impact of GDM on heart disease, and the need to have regular health checks.'
PLoS Med 2018; 15(1): e1002488 (https://doi.org/10.1371/journal.pmed.1002488).
Picture credit: © NorGal/stock.adobe.com