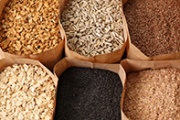 Gluten avoidance: cardioprotective benefits of whole grains may be missed
By Nicole MacKee
Long-term gluten intake is not associated with coronary heart disease (CHD) risk in adults without coeliac disease, say researchers, but they also warn that gluten avoidance may result in people missing the cardioprotective benefits of whole grains.
In a prospective cohort study spanning 26 years, researchers analysed the gluten intake and development of incident CHD in 64,714 women in the Nurses' Health Study, and 45,303 men in the Health Professionals Follow-Up Study.
Study participants completed a detailed food frequency questionnaire in 1986, which was updated every four years until 2010. They were followed up from baseline until CHD developed, death or the end of 2012.
The research, which was published in the BMJ, found that after adjustment for other known cardiovascular risk factors, gluten intake was not associated with overall CHD, nonfatal myocardial infarction or fatal myocardial infarction.
In further analysis, the researchers found a significant inverse relationship between estimated gluten intake and CHD after adjusting for refined grain intake (with whole grains making up the variance in gluten intake). They noted, however, that the absolute risk difference was modest, with just 75 additional CHD events per 100,000 person years when comparing the lowest with the highest gluten intake quintiles.
'These findings underscore the potential that people who severely restrict gluten intake may also significantly limit their intake of whole grains,' the researchers wrote.
Professor Peter Clifton, Professor of Nutrition at the University of South Australia in Adelaide, said the findings highlighted the importance of a healthy fibre source for people who avoid gluten.
'People on gluten-free diets need to make sure they get a good source of fibre and take in plenty of fruit and vegetables, and reduce intake of trans fat, red meat and processed meat – all the things that are associated with heart disease,' Professor Clifton told Medicine Today.
He said the variety of gluten-free products available over the study period was limited and those available were often 'terrible', in contrast to the wide range of healthy gluten-free products available today.
'Lots of people who don't have coeliac disease say they feel better avoiding wheat for whatever reason,' Professor Clifton said, adding that it was important to exclude coeliac disease in these people. 
'If someone wants to avoid gluten because they feel better – I think that's fine, providing they have a healthy cardioprotective diet in general.'
BMJ 2017; 357: j1892. doi: 10.1136/bmj.j1892.
Picture credit: © Barbara Helgason/stock.adobe.com