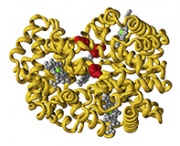 HbA1c measurements provide more specific definition of prediabetes
By Nicole MacKe
e
Defining prediabetes according to glycated haemoglobin (HbA
1c
) levels improves specificity and provides modest improvements in risk discrimination, according to a study of varying international prediabetes definitions.
The prospective cohort study of more than 10,000 middle-aged participants in the Atherosclerosis Risk in Communities (ARIC) study, followed up for more than 20 years, found that prediabetes definitions using HbA1c were more specific in identifying people at risk of long-term outcomes, and provided slightly better risk discrimination for chronic kidney disease, cardiovascular disease, peripheral arterial disease and all-cause mortality than fasting glucose concentrations.
The study, published in
The Lancet
, compared the prognostic value of three approaches to defining prediabetes: the American Diabetes Association (ADA) criteria (fasting glucose concentration between 5.6 mmol/L and 6.9 mmol/L; HbA
1c
of 5.7 to 6.4% [39 to 46 mmol/mol]; or two-hour glucose concentration after 75 g oral glucose tolerance test of 7.8 to 11.0 mmol/L); the WHO criteria, which recommends the same two-hour glucose tolerance test range as the ADA, but a higher fasting glucose concentration of 6.1 to 6.9 mmol/L; and the International Expert Committee approach, which defines prediabetes as an HbA
1c
of 6.0 to 6.4% (42 to 46 mmol/mol).
The research found that the ADA's lower fasting glucose cut-off was the most sensitive measure.
The Australian Diabetes Society (ADS) and the Australian Diabetes Educators Association released a position statement in 2007 on the definition of prediabetes in Australia, which remains current, but is soon to be revised.
Australia's approach is in line with the WHO criteria, defining prediabetes with a fasting glucose concentration of 6.1 mmol/L or higher and less than 7.0 mmol/L. The position statement does not recommend measurement of HbA1c levels.
Professor Stephen Twigg, Stan Clark Chair of Diabetes at the Sydney Medical School, University of Sydney, and lead author on the Australian position statement, told
Medicine Today
that the precise point at which prediabetes should be defined was 'somewhat arbitrary'. He called for greater focus on the elevated cardiovascular risk in patients with prediabetes.
'Prediabetes increases the cardiovascular event rate and we have a lack of studies informing health carers in evidence-based, practical blood pressure and cholesterol targets in that group,' said Professor Twigg. He added that the AusDiab study showed that people with prediabetes had a cardiovascular mortality rate of about 1.5 to twofold the rate in the general population.
'Exactly where the cut-off for prediabetes is – whether you use HbA1c, impaired fasting glucose or impaired glucose tolerance – that's somewhat of a semantic question. It depends on whether or not you want to catch more people who are at risk, or to catch an at-risk group who have a higher risk.'
ADS President Professor Sophia Zoungas told Medicine Today that an update of the ADS position statement on prediabetes was a priority for the Medical Affairs Subcommittee.
'Interim discussions have been conducted with relevant stakeholders; however, the review remains ongoing,' she said.
Lancet Diabetes Endocrinol 2016; doi: 10.1016/S2213-8587(16)30321-7.
Picture credit: © Kallista Images/Custom Medical Stock Photo/SPL. Glycated haemoglobin.