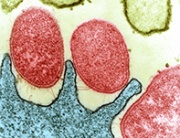 © SPL. Stomach section infected with Helicobacter pylori (TEM).
Helicobacter pylori infection may double bleeding risk in daily aspirin users
By Melanie Hinze
The presence of Helicobacter pylori infection may more than double the risk of upper gastrointestinal (GI) bleeding in patients taking daily ­­­­low-dose aspirin, according to a systematic review and ­meta-analysis published in the Medical Journal of Australia.
Both aspirin and H. pylori infection are independent risk factors for upper GI haemor­rhage; however, until now their interaction as risk factors has been unclear, the study authors wrote.
The study showed that upper GI haemorrhage was almost 2.5 times more common in H. pylori-positive patients taking daily low-dose aspirin than in H. pylori-negative patients taking daily low-dose aspirin.
The authors reported that the incidence of upper GI bleeding in people taking low-dose aspirin was 0.1 to one event per 100 patient years. There­fore, applying their finding of the increased risk in patients infected with H. pylori, the number needed to treat to prevent one bleeding event annually was estimated to be between 100 and more than 1000.
Study coauthor, Professor Neville Yeomans, Emeritus Professor in the School of Medicine, Western Sydney University, told Medicine Today, 'Because there are costs and inconveniences in testing and treating for H. pylori, it's probably not going to be worthwhile for everyone started on aspirin.'
However, he said the find­ings did suggest this approach should be discussed with those at highest risk of an ulcer bleed.
'These are particular patients who have had a ­pre­vious bleed on aspirin or other NSAIDs, those with a recent ulcer history (bleeding or otherwise) and generally any­one whose comorbidities mean they would be in high danger from an upper GI bleed,' he said.
The study involved a syste­matic search for all publications since 1989 (the year in which H. pylori was named) and further searches of individual publications
for data on H. pylori. Search term equiva­lents for 'upper gastrointestinal haemorrhage' and 'aspirin' were also used. Of the 7599 identified records, only seven were deemed eligible for meta-analysis. These were all case-control studies, comprising a total of 1172 patients, 1132 of whom took low-dose aspirin, defined as 325 mg daily or less.
Med J Aust 2018; 209: 297-298.