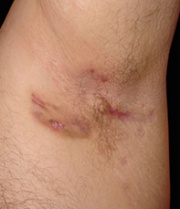 Hidradenitis suppurativa comorbidities: study sheds light on temporal associations
By Melanie Hinze
Patients with newly diagnosed hidradenitis suppurativa may have a high risk of type 1 diabetes and a subsequent high risk of acute myocardial infarction (AMI), chronic obstructive pulmonary disease (COPD) and pneumonia, according to research published recently in JAMA Dermatology.
Using data from the Danish National Patient Registry, researchers compared the temporal disease trajectories experienced by 14,488 individuals diagnosed with hidradenitis suppurativa during a 24.3-year period with those experienced by a matched control group selected from the Danish patient population.
They found that diseases such as depression, type 1 diabetes, asthma and inflammatory diseases of the vagina and vulva occurred before a diagnosis of hidradenitis suppurativa, whereas hypertension, COPD, AMI and chronic ischaemic heart disease developed after the hidradenitis suppurativa diagnosis.
After a hidradenitis suppurativa diagnosis, the median time to serious subsequent diagnoses such as AMI or chronic ischaemic heart disease was less than five years.
The researchers said that inflammatory diseases, diabetes, depression, asthma, severe stress reaction and adjustment disorders may be associated with the development of hidradenitis suppurativa.
'These findings suggest that physicians who treat patients with newly diagnosed hidradenitis suppurativa should be aware of the higher frequency of type 1 diabetes and other inflammatory diseases,' they wrote.
Associate Professor Geoffrey Cains, Head of the Department of Dermatology at Liverpool Hospital, Sydney, said that the chronic skin disease, hidra­denitis suppurativa, which is characterised by recurrent inflamed nodular lesions, was now considered to be one of the autoinflammatory diseases. 'As such, [it] is associated with other disorders caused by chronic systemic inflammation,' he said.
'Successful management of hidradenitis suppurativa involves the recognition and holistic treatment of all associated conditions,' he said.
JAMA Dermatol 2020; doi:10.1001/jamadermatol.2020.1281.