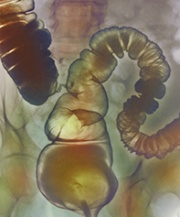 Hypnotherapy effective for IBS symptom treatment in primary and secondary care
By Melanie Hinze
The findings of a recent study support the use of hypnotherapy for the treatment of irritable bowel syndrome (IBS) in primary and secondary care, despite a somewhat disappointing responder rate, an Australian expert says.
Talking to Medicine Today, Professor Peter Gibson, Professor and Director of Gastroenterology at Alfred Health and Monash University, Melbourne, said, 'While the results of this trial are positive, we usually see in trials, and in practice, about three in every four patients responding, compared with the less than one in two in this new study.'
He suggested that a big drawback of the study, published in Lancet Gastroenterology and Hepatology, could be that qualified people who knew little about IBS delivered the hypnotherapy.
'In clinical practice we strongly believe, based on our experience, that there is a big difference between patient responses after seeing psychologists who understand the underlying condition, compared with those who do not,' he said.
The multicentre, randomised controlled trial (IMAGINE) assessed 354 patients with IBS from hospitals in the Netherlands, who had been referred from primary or secondary care. Patients were randomly assigned to receive over three months six sessions of either individual or group hypnotherapy, or to a control group who received educational supportive therapy.
At 12 months from baseline, adequate symptom relief was reported by 40.8% of patients who had received individual hypnotherapy, 49.5% of those who had received group hypnotherapy and 22.6% of those in the control group.
The study authors concluded that hypnotherapy should be considered as a possible treatment for patients with IBS in primary and secondary care. Furthermore, the finding that group therapy was noninferior to individual hypnotherapy meant that many more patients could be treated for the same cost.
Professor Gibson agreed, saying that gut-directed hypnotherapy was almost threefold better than education alone, it had prolonged benefits (unlike drugs that worked as long as they were being taken) and there were no real hypnotherapy-related adverse events.
'I recommend gut-directed hypnotherapy often to my patients and we have two working hypnotherapists in our functional gut clinic. However, I would strongly suggest that knowledge of the underlying condition be a prerequisite of a hypnotherapist to whom anyone should refer their patients,' he said.
Lancet Gastroenterol Hepatol 2018; http://dx.doi.org/10.1016/S2468-1253(18)30310-8.