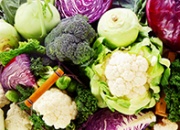 © STOCKCREATIONS/SHUTTERSTOCK
Increased vegetable intake may lower carotid artery wall thickness in older women
By Nicole MacKee
Older women who eat more daily serves of vegetables, particularly cruciferous vegetables, may be at lower risk of subclinical atherosclerosis than women who eat fewer vegetables, Australian researchers have reported in the Journal of the American Heart Association.
The researchers found that women eating three or more serves of vegetables each day had about 5% lower mean common carotid artery intima-media thickness (CCA-IMT) compared with women consuming fewer than two serves of vegetables.
They found a difference of 0.05mm in maximum CCA-IMT between high and low intakes of total vegetables. This was likely to be clinically significant, they said, because previous research had found that a 0.1 mm decrease in carotid IMT was associated with a 10% to 18% decrease in risk of MI and stroke.
Cruciferous vegetables were found to be particularly beneficial, with each 10 g/day higher intake associated with a 0.006 mm (0.8%) lower mean CCA-IMT.
The observational study included more than 900 women aged 70 years or older. Dietary intake was assessed using a food frequency questionnaire. CCA-IMT and carotid plaque severity were measured using high-resolution B-mode carotid ultrasonography.
Professor Peter Clifton, Professor of Nutrition at the University of South Australia, said there was a large amount of evidence of an association between fruit and vegetable intake and lower rates of coronary disease.
He said, however, that CCA-IMT was a relatively 'soft endpoint' in evaluating the cardiovascular benefits of diet.
'The role of carotid IMT as a risk predictor is quite weak,' he told Medicine Today. '[The study is] suggestive that it's helpful, but all it says is that a participant's vegetable intake at a particular time is related to a better carotid IMT.'
Professor Clifton said it was interesting that vegetable intake was not associated with levels of plaque severity. He added that the changes shown in the research were 'very small' and although they were statistically significant they were not 'biologically very dramatic'.
J Am Heart Assoc 2018; 7: e008391; doi: 10.1161/JAHA.117.008391.