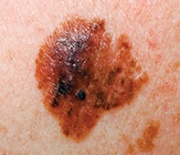 Is there a link between erectile dysfunction therapy and melanoma?
By Jane Lewis
A new meta-analysis of studies investigating the association between phosphodiesterase inhibitors (PDE5i), first-line treatment for erectile dysfunction (ED), and melanoma has concluded there is a weak association between the two, but no evidence for a causal relationship.
Published in the Journal of the National Cancer Institute, the study was carried out in response to a call for formal evaluation of the link between PDE5i and melanoma by the US Food and Drug Administration, who last year placed PDE5i on the watch list of drugs with possible safety issues.
Commenting on the study, Professor Rob McLachlan, Director of Andrology Australia, said he was aware of the weak association between PDE5i and melanoma, and described the results of the meta-analysis as 'reassuring.'
Three case–control studies and two cohort studies were included in the meta-analysis, comprising 866,049 men of whom 41,874 were diagnosed with melanoma. Overall, men taking PDE5i were found to have a slightly increased risk of melanoma (relative risk [RR], 1.11), with no significant heterogeneity between studies. However, this increased risk was only statistically significant in men with low PDE5i exposure (not high exposure) and with low-stage melanoma (not high stage), which the authors suggested indicated a lack of dose response and biological gradient. A slightly increased risk of basal cell carcinoma (BCC) was also observed (RR, 1.16), suggesting likely confounding by ultraviolet exposure.
According to the authors, both PDE5i use and skin cancer are strongly associated with socioeconomic status, suggesting potential for confounding by lifestyle factors, while the increased risk of in situ melanoma but not advanced disease among PDE5i users raises the possibility of detection bias.
'In conclusion, a meta-analysis of published studies showed a weak association between PDE5i and melanoma that did not meet Hill's causal criteria,' they stated. 'The lack of dose response, biological gradient, and specificity suggest against a causal relationship. The observed association may be due to confounding from other factors, in particular, sunlight exposure.'
Professor McLachlan agreed, saying that 'most telling' was the fact that other skin lesions, not specifically melanoma, were associated with PDE5i use. 'This may be viewed as a marker of a population that might be at increased risk, rather than a drug-driven mechanism,' he told Medicine Today.
'On the existing data, there is no reason to change our clinical practice. If someone has sun exposure, we should be checking their skin. If a patient has ED that is suitable for PDE5i treatment, we should be suggesting that. The two don't really relate.'
J Natl Cancer Inst 2017; doi: 10.1093/jnci/djx086.
Picture credit: © Dr P. Marazzi/SPL