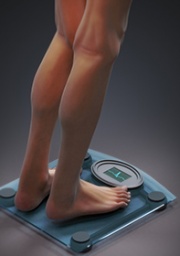 Knowledge of early warning signs of eating disorder could reduce time to diagnosis
By Melanie Hinze
Early warning signs could be used to reduce the time to diagnosis of eating disorders, according to a national data linkage study published in the British Journal of Psychiatry.
Using anonymised electronic health records from general practices and hospital admissions, the study authors examined the frequency of comorbidities and prescribed medications in 15,558 people diagnosed with an eating disorder in Wales between 1990 and 2017 and matched controls.
They found that in the years preceding diagnosis, eating disorders were associated with a range of mental health condi­ tions; increased prescription of CNS, dietetic and gastro­ intestinal drugs; and higher numbers of accidents, injuries and self­harm. These increased diagnoses and prescriptions began at least two years before diagnosis of an eating disorder and remained for three years afterwards.
Despite a relatively low inci­dence compared with other mental health conditions, eating disorders were associated with high morbidity and the highest mortality of all mental disorders, the authors stated. However, people with this condition were often young, vulnerable, ambi­valent about recovery and diffi­cult to engage with treatment.
'Without specific knowledge of the condition, people with this mental health condition can evade detection, thus delaying time to diagnosis and treatment and influencing long­term outcome,' they wrote.
Professor Stephen Touyz, Professor of Clinical Psychology and Director of Research at the InsideOut Institute, Sydney, said, 'Here we have illnesses with a very high burden on the health system and individuals who have low detection rates.'
He said it was hoped that with early detection and evidence­ based interventions, the multi­ ple burdens of eating disorders may be reduced in the future.
Most patients with eating disorders were seen by GPs, who would soon be able to refer clinically relevant cases to psy­chologists/clinical psychologists for up to 40 Medicare rebated sessions per year, he added.
Professor Touyz told Medicine Today that InsideOut Institute at the Charles Perkins Centre, University of Sydney, was funded by the Federal Million Minds Mission to create a linked data surveillance system for eating disorders in Australia. This will occur at the same time the Federal Government intro­duces specific Medicare item numbers for eating disorders, directed primarily at psycho­logists and dietitians, to provide better access to treatment.
'The linked data surveillance system being developed in Australia will be able to emulate this UK research by drawing attention to both the incidence and prognosis of patients with eating disorders but also more importantly, their journey through the primary and sec­ondary care networks,' he said.
Br J Psych 2019; doi: 10.1192/bjp.2019.153.