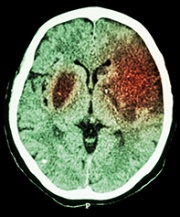 Lying flat or sitting up after an ischaemic stroke: no difference to outcomes
By Nicole MacKee
Patients' head positioning after having an ischaemic stroke makes no difference to their outcomes, Australian researchers have reported in The New England Journal of Medicine.
In a cluster-randomised, crossover trial conducted in nine countries, more than 11,000 patients with acute stroke (85% of which were ischaemic), were assigned to either a lying flat position or a sitting-up position, with the patient's head elevated to at least 30 degrees, for 24 hours.
The researchers found no significant differences in 90-day disability outcomes and rates of serious adverse events, including pneumonia, between the groups. Mortality within 90 days was 7.3% among patients in the lying-flat group and 7.4% in the sitting-up group.
Lead researcher Professor Craig Anderson told Medicine Today that the lying flat position was often preferred in Western clinical practice.
'There are strong advocates for the lying-flat position,' Professor Anderson said. 'It is so strictly adopted that, in some cases, a patient has to have all of their toileting in bed and when a patient can't use a pan or bottle, they are catheterised.'
Professor Anderson said the lying flat position was thought to improve blood flow to the brain, which may improve outcomes. However, he said, a sitting-up position may also help to reduce brain oedema.
'We didn't show any benefits or any harms with either position,' said Professor Anderson, who is Executive Director of The George Institute China, and a part-time clinical neurologist at Sydney's Royal Prince Alfred Hospital.
'The good news is that it's not the positioning of the patient per se that puts them at risk of any breathing problems, it's other issues that may be associated with their disability or overall nursing care that may be relevant.'
Professor Richard Lindley, Professor of Geriatric Medicine at the Sydney Medical School, University of Sydney, said the study's innovation was to test a very basic clinical question with a robust study design.
'We've worried that position was important, but the trial is reassuring for ward-treated patients that lying down or sitting up is equally acceptable,' said Professor Lindley, who was also involved in the study.
N Engl J Med 2017; 376: 2437-2447.
Picture credit: © Stockdevil/stock.adobe.com