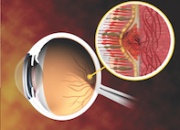 Macular degeneration helped by carotenoids
By Jane Lewis
A large, long-term, cohort study has found higher intakes of bioavailable carotenoids, particularly lutein/zeaxanthin and α-carotene, are associated with reduced risk of advanced age-related macular degeneration (AMD).
Professor Paul Mitchell, Director of Ophthalmology at Western Sydney Local Health Network, said the study confirms data from several other recent studies, including his own, the Blue Mountains Eye Study.
'The data indicate that dietary lutein/zeaxanthin are protective in terms of the development of AMD, particularly neovascular or wet AMD,' he said. 
The current research, published in JAMA Ophthalmology, involved 102,046 participants from two major US studies, the Nurses' Health Study and the Health Professionals Follow-up Study, who were followed up for 26 years and 24 years, respectively. During this time, 1361 cases of intermediate AMD and 1118 cases of advanced AMD were confirmed, most of which (96%) were diagnosed as neovascular AMD.
A comparison of extreme quintiles showed the intake of bioavailable lutein and zeaxanthin to be associated with a pooled relative risk of advanced AMD of 0.59. Higher intakes of other bioavailable carotenoids (β-cryptoxanthin, α-carotene and β-carotene) also contributed to a reduced risk of advanced AMD. By contrast, no association was found between intake of any carotenoids and intermediate AMD, suggesting an effect on AMD progression rather than initiation, the authors reported. 
'Our findings from two large, long-running prospective cohorts with repeated dietary assessments suggest that a higher intake of bioavailable lutein/zeaxanthin is associated with a 40% lower risk of advanced AMD,' they wrote. Although the study was observational and therefore cannot prove causation, findings such as these 'provide the best available evidence to further strengthen the evidence base for a protective role of lutein/zeaxanthin,' they added.
Noting one of the study's strengths was its large size, Professor Mitchell cautioned that a major limitation was that diagnoses were obtained from records rather than from an examination of each participant.
'These [diagnoses] will vary widely in terms of their consistency, as illustrated by the finding that the association included 96% neovascular late cases and only 4% atrophic cases, whereas population studies suggest an expected proportion of about 35% for atrophic late AMD,' he said.
Nonetheless, the study's conclusions 'are quite reasonable,' and 'it seems important for people with early signs of AMD to eat a diet rich in lutein/zeaxanthin and other carotenoids, or to take oral supplements,' he said.
JAMA Ophthalmol 2015; doi: 10.1001/jamaophthalmol.2015.3590.
Picture credit: © Gunilla Elam/SPL. Neovascular macular degeneration.