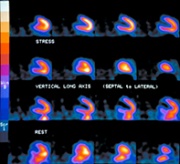 Mental stress induces ischaemia in younger women with stable heart disease
By Bianca Nogrady
Younger women with stable coronary heart disease (CHD) are more susceptible to mental stress­-induced myocardial ischaemia than men, which may explain some observed gender differences in heart disease, experts say.
In a prospective study, 686 patients with stable CHD – including 191 women – underwent myocardial perfusion imaging at rest and during mental and conventional (exercise/pharmacological) stress testing.
Researchers found that women tended to show more ischaemia than men in response to both mental and conventional stress, according to a paper published in the Journal of the American Heart Association.
This effect was strongly influenced by age. For each 10 years of decreasing age, women showed 0.72% more left ventricular myocardium with ischaemia than men, and the incidence of mental stress­ induced myocardial ischaemia was 82.6% higher in women than in men.
Overall, the incidence of mental stress-­induced myocardial ischaemia in women aged 50 years or under was almost fourfold higher in women than in men of a similar age, even after adjusting for medical, sociodemographic and psychosocial risk factors, and medications.
'Not only had young women more ischemia with mental stress than men, but they also had significantly more ischemia with mental stress than older women,' the authors wrote. 
'These results suggest a vulnerability toward MSIMI [mental stress-­induced myocardial ischaemia] in women with early-­onset CHD and are consistent with our previous findings in a sample of young survivors of an acute MI.'
Commenting on the findings, cardiologist Professor Clara Chow from The George Institute for Global Health, Sydney, said this might help explain some of the gender differences in presentation of CHD.
'There has been the observation that women can get angina with normal coronary arteries and this suggestion of acute mental stress causing ischaemia could support that,' Professor Chow told Medicine Today.
The study also noted that women in the study showed a more adverse psychosocial risk profile compared with men, even when their clinical risk profile was similar or even better.
Professor Chow said longer­ term mental stress might also contribute, pointing out that if the women's coronary vessels were constantly responding to mental stress in such a fashion, this would create a significant level of injury.
J Am Heart Association 2016; doi: 10.1161/JAHA.116.003630.
Picture credit: © Superstock/Doctor Stock/Diomedia.com. Myocardial perfusion imaging.