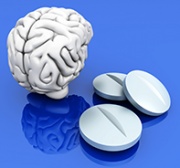 © SPECTRAL-DESIGN/SHUTTERSTOCK
Metformin use in people with diabetes linked with slowed cognitive decline, reduced dementia
By Nicole MacKee
Metformin may help to stave off dementia and slow cognitive decline in people with diabetes, Australian researchers have reported.
In a prospective observational study published in Diabetes Care, the researchers followed 1037 community-dwelling older people (aged 70 to 90 years without dementia at baseline) for six years.
Of the study participants, 123 had type 2 diabetes and 67 received metformin. Cognitive function was assessed every two years using neuropsychological testing assessing a range of measures including executive function, memory and language.
The researchers found that the participants with diabetes taking metformin showed significantly slower decline in global cognition and executive function, compared with participants with diabetes who were not taking metformin. Incident dementia was significantly higher in those not taking metformin compared with those who were (odds ratio, 5.29).
Lead author Professor Katherine Samaras, endocrinologist at Sydney's St Vincent's Hospital and Research Theme Leader (Healthy Ageing Research) at the Garvan Institute of Medical Research, said although the usual reservations about observational studies applied, the study had several key strengths.
'What we did that was unique and distinguishes us from prior studies was that we controlled for numerous covariates, including dementia risk factors, years of education, whether English was a second language, and the dementia risk gene apolipoprotein E epsilon 4,' Professor Samaras told Medicine Today. 'We also performed sensitivity analyses that accounted for severity and duration of diabetes. By doing this, the strength of the association cannot be so easily dismissed.'
Asked if the findings suggested a potential role for metformin in preventing dementia in at-risk people without diabetes, Professor Samaras said this was an important question that her research group would be investigating.
'To know the answer a randomised controlled trial must be undertaken, and the National Health and Medical Research Council has funded our group to undertake this,' she said.
Professor Samaras said patients with type 2 diabetes had 'double or triple' the risk of dementia of the general population, and it was important to monitor their cognition as part of their annual review of complications.
'If they have no contraindication to being on metformin, there are likely to be gains to their health by being on this medication, even if they have reached HbA1c targets with diet,' she said, adding that diabetes care was about holistic management, not just HbA1c targets.
'In older people, this means placing their cognitive health up front, since it impacts their independence and functioning so significantly. It's important to actively manage all risk factors beyond glucose, including blood pressure, lipids, sedentariness and excess weight.'
Diabetes Care 2020; https://doi.org/10.2337/dc20­0892.