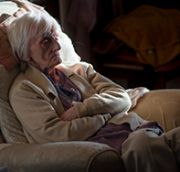 © PNEIL BUSSEY/ISTOCKPHOTO.COM MODEL USED FOR ILLUSTRATIVE PURPOSES ONLY
Methylphenidate may be effective for apathy in Alzheimer's disease
By Rebecca Jenkins
The psychostimulant drug methylphenidate is a safe and effective treatment for apathy in Alzheimer's disease, a phase III double-blind, placebo­ controlled study has found.
For the Apathy in Dementia Methylphenidate Trial 2 (ADMET 2), 200 older adults with Alzheimer's disease, mild to moderate cognitive impairment and frequent and/ or severe apathy as measured by the Neuropsychiatric Inventory (NPI) were randomised to 10g methylphenidate twice daily or a matching placebo.
At six months, there was a small to medium reduction in NPI apathy scores in people who received methylphenidate compared with the placebo group, a difference equivalent to a Cohen d of 0.365, the researchers reported in JAMA Neurology. There was also a trend towards improved ratings on the Alzheimer's Disease Cooperative Clinical Study Clinical - Global Impression of Change, but these did not reach statistical significance.
Cognitive measures and quality of life were not significantly different between the two groups, the researchers wrote, whereas adverse events were generally modest and consistent with those expected of methylphenidate.
Commenting, Professor Henry Brodaty, Scientia Professor of Ageing and Mental Health at UNSW Sydney, told Medicine Today that the effect was small to moderate, and that it was particularly pronounced in the first three months, then narrowed but stayed significant over the next three months.
Questions also remained about whether different domains of apathy may be preferentially responsive to methylphenidate, he noted, and whether the response was specific to apathy with Alzheimer's disease.
Professor Brodaty, who is Co-Director of the Centre for Healthy Brain Ageing (CHeBA) at UNSW Sydney, stressed apathy was an incredibly difficult condition for family and partners to manage in loved ones, highlighting the need for effective therapies.
'It is very frustrating living with someone with whom you have been emotionally involved for many years and now neither initiates actions nor conversations,' he said.
'The person displays fewer emotions, they are flatter; and you need to be the person's starter motor constantly. Imagine sitting at the dinner table together, the person responds to you but if you say nothing the person is silent.'
Methylphenidate is currently licensed for treating attention deficit hyperactivity disorder and narcolepsy in Australia.
Professor Brodaty said he would first try a cholinesterase inhibitor if he was treating apathy in an Alzheimer's type of dementia as there has been some evidence of benefit.
'If the apathy was very debilitating and distressing and there were no contraindications (e.g. arrhythmias, history of hallucinations), I would consider trying methylphenidate. I have not done so yet,' he said.
The author of an editorial accompanying the study noted that apathy was not a benign neuropsychiatric symptom, despite its 'near-ubiquity'.
'Clinicians who have struggled to treat apathy in their patients with [Alzheimer's disease] should take heart at this evidence that methylphenidate may be a safe and efficacious option,' the editorialist wrote.
JAMA Neurol 2021; doi:10.1001/jamaneurol.2021.3356.
JAMA Neurol 2021; doi:10.1001/jamaneurol.2021.2942.