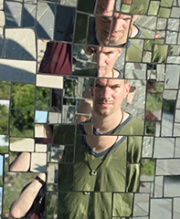 Model improves prediction of first-episode psychosis
By Bianca Nogrady
Researchers have developed a model that can more accurately identify individuals at ultra-high risk of psychosis and are most likely to experience a first psychotic episode within the following year.
The classification of 'ultra-high risk' was developed to look for people who, by virtue of family history, early signs of psychosis or very brief episodes of psychosis, are considered likely to go on to develop schizophrenia or psychosis associated with a mood disorder.
But even among this group, less than 30% do ultimately develop the condition, leading researchers to look for better ways of singling out those truly at risk.
In a paper published in Translational Psychiatry, a team led by Dr Scott Clark – clinical academic in psychiatry at the University of Adelaide – report on development of a probabilistic model that has identified 72% of these ultra-high risk patients who go on to develop psychosis within a year of assessment.
The model used data from the placebo group enrolled in a 12-week trial of omega-3 supplementation for prevention of psychosis in a group identified at ultra-high risk.
Overall, 28% of patients transitioned over the course of the one-year study.
Previous illicit drug, tobacco or alcohol use was the most significant historical predictor of transition to psychosis, but the analysis also showed that higher psychosis scores and lower functioning scores at first assessment were significantly predictive.
Of the biomarkers, researchers found that low omega-3 and nervonic acid blood levels were also associated with an increased risk of transition. 'Our study demonstrates that a probabilistic model combining historical and clinical data with blood fatty-acid levels could be used to improve the specificity of UHR [ultra-high risk] criteria and reduce the associated false-negative rate,' the authors wrote.
Dr Clark said that improved assessment of individuals at risk of psychosis would also help to target treatments.
'At the moment clinicians are uncertain which ultra-high risk patients will transition in the near future, leading to a wait and watch approach to care,' he told Medicine Today.
'At the same time we know that a range of treatments are similarly effective in preventing or delaying a first episode of psychosis.'
Dr Clark stressed that the model needed to be validated in larger studies, but if it did offer a way to improve the accuracy of psychosis risk prediction, the approach would enable researchers to investigate how to intervene more effectively in high- and low-risk groups.
Translational Psychiatry 2016; 6: e897. doi: 10.1038/tp.2016.170.
Picture credit: © Richard Arno/iStockphoto. Model used for illustrative purposes only.