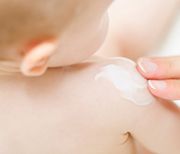 © FOTODUETS/ISTOCKPHOTO.COM MODEL USED FOR ILLUSTRATIVE PURPOSES ONLY
Moisturiser use in infants 'probably' ineffective for eczema, food allergy prevention
By Nicole MacKee
Over-the-counter moisturisers and bath oils are 'probably' ineffective in preventing eczema and food allergies in healthy infants, and may cause harm, a Cochrane Systematic Review has concluded.
Researchers identified 33 randomised controlled trials that had investigated the use of skin care interventions – including moisturisers/emollients, bath oils and advice to use less soap – in infants aged up to 1 year. The trials included almost 26,000 infants with no pre-existing diagnoses of food allergy, eczema or other skin condition.
All interventions were compared with no skin-care intervention or standard care.
The researchers found that using moisturisers in infants aged up to 1 year was unlikely to change the risk of eczema onset before they turned 2 years of age (relative risk [RR], 1.03), nor the time to onset of eczema (hazard ratio, 0.86). And it was unclear if using moisturisers in infancy reduced the risk of immunoglobulin-E (IgE)-mediated food allergies by age 2 (RR, 2.53) or allergic sensitisation to a food allergen (RR, 0.86).
Also, the researchers reported, skin care preparations 'probably' increased the risk of skin infections (RR, 1.34). And, they noted, skin-care interventions may cause stinging or allergic reactions (RR, 2.24) and may increase the risk of slipping accidents (RR, 1.42).
Review coauthor Associate Professor Adrian Lowe told Medicine Today that earlier studies, including a study conducted by his research group, had suggested that moisturisers may be protective against eczema (Br J Dermatol 2018; 178: e19-e21).
'Our skin is an important barrier to the external world and there is good evidence that allergens from the environment can penetrate our skin, cause sensitisation and eventually allergies,' said Associate Professor Lowe, who is Deputy Leader of the University of Melbourne's Allergy and Lung Health Unit.
However, two studies published in 2020 had cast doubt on the protective benefits of skin interventions, prompting this review.
'These findings were really disappointing. All of the authors of the review were running studies to try to prevent allergies in our babies using skin interventions,' Associate Professor Lowe said.
There was now enough evidence, he said, to conclude that over-the-counter moisturisers should not be used for allergy and eczema prevention in infants.
Associate Professor Lowe added, however, that his research group was now investigating an emollient that has been specifically designed to build up the skin's barrier function, to see if it may be a more effective option. The NHMRC-funded Prevention of Eczema (and food allergy) By a Barrier Lipid Equilibrium Strategy (Pebbles) study, will be enrolling participants until the end of March 2021.
Cochrane Database Syst Rev 2021; 2: CD013534.