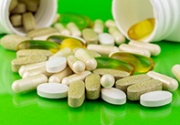 Multivitamin supplement use around pregnancy may reduce autism risk
By Bianca Nogrady
Women who take folic acid and/or multivitamin supplements before and during pregnancy may reduce the likelihood of autism in their offspring. 
In a case-control study published in JAMA Psychiatry, Israeli researchers followed from birth for a mean of 10 years 45,300 children – 1.3% of whom were diagnosed with autism spectrum disorder – and examined their mother's supplement use around pregnancy.
They found that maternal use of folic acid and/or multivitamin supplements before pregnancy was associated with a 61% lower likelihood of autism in the offspring, and during pregnancy a 73% lower risk. 
Use of folic acid supplements alone was associated with a 44% reduction in risk if taken before pregnancy, and a 68% reduction in risk when taken during pregnancy. Use of multivitamin supplements alone taken before pregnancy was linked with a 64% reduction in risk of autism in offspring, and during pregnancy a 65% reduction in the risk.
The reductions in risk generally remained significant even after adjusting for potential confounders such as maternal vitamin deficiency.
However, folic acid supplementation before pregnancy did not significantly reduce the risk of autism in offspring whose parents had mental health problems.
'This finding may reflect noncompliance, higher rates of vitamin deficiency, or poor diet among persons with psychiatric conditions,' the authors wrote.
The effect size was similar between male and female offspring, although the authors noted that the sample size of female offspring was small.
Commenting on the findings, Professor Cheryl Dissanayake, Director of the Olga Tennison Autism Research Centre at La Trobe University, Melbourne, said the study added further weight to arguments in favour of supplement use during pregnancy.
'This study was good in trying to differentiate between use in pregnancy and before pregnancy and really found that both were important,' Professor Dissanayake told Medicine Today.
Although previous studies had found associations between folic acid and multivitamin supplement use and reduced risk of a range of disabilities including autism, Professor Dissanayake said the mechanisms of action remained largely a mystery.
'We know that there isn't one single cause for autism – there are likely hundreds of causes – with different underlying mechanisms that can result in autism, but anything that you can do to protect against atypical development is going to reduce the risk for autism.'
JAMA Psychiatry 2018, doi:10.1001/jamapsychiatry.2017.4050.
Picture credit: © O.Farion/stock.adobe.com