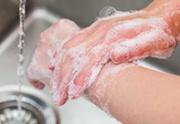 © RCFOTOSTOCK/STOCK.ADOBE.COM
National Hand Hygiene Initiative: significant, sustained improvements eight years on
By Kate Murchison
The Australian National Hand Hygiene Initiative (NHHI) has been associated with significant and sustained improvement in hand hygiene compliance and reduction in the risk of health-care-associated Staphylococcus aureus bacteraemia (HA-SAB), a detailed analysis has found.
Eight years after the implementation of the NHHI (January 2009 to June 2017), an Australian research team, led by Professor Lindsay Grayson from Hand Hygiene Australia, Austin Health, Melbourne, assessed the initiative's outcomes, including hospital participation, hand hygiene compliance, cost and incidence of HA-SAB.
For every 10% increase in hand hygiene compliance, the incidence of HA-SAB decreased by 15% in 132 of Australia's major public hospitals, the researchers reported in The Lancet Infectious Diseases.
The NHHI is a national culture-change program based on the WHO's 'My 5 Moments for Hand Hygiene' approach to reduce healthcare-associated infection. The five Moments are: before touching a patient, before a clean procedure, after exposure to body fluids/wounds, after touching a patient and after touching a patient's surroundings). In the analysis, hand hygiene compliance was audited by direct observation three times a year, undertaken by specially trained personnel.
The researchers found increases in national healthcare facility participation, from 105 hospitals in 2009 to 937 in 2017, and in overall hand hygiene compliance (63.6% of 56,978 Moments in 2009 vs 84.3% of 586,559 Moments in 2017). They also found increases in compliance for each Moment type and for each healthcare worker occupational group.
While noting several limitations of the study, including healthcare workers being more likely to comply with hand hygiene guidelines when they knew they were being observed, the researchers said the initiative appeared to have been highly successful in sustainably improving hand hygiene compliance among Australian healthcare workers nationally. It also appeared 'to have effectively raised awareness about the importance of infection control among the Australian population,' they wrote.
The authors of an accompanying commentary said the NHHI filled an important gap in knowledge and contained essential messages for governments or organisations planning to establish long-term initiatives to improve hand hygiene compliance and prevent infection.
In other hand hygiene news, the WHO recently launched its annual campaign 'SAVE LIVES: Clean Your Hands,' this year focusing on equal protection for patients and healthcare workers in all countries against infection and antimicrobial resistance. WHO has invited all healthcare facilities to join the 2019 WHO Global Survey on Infection Prevention and Control (IPC) and Hand Hygiene by using two validated tools. The anonymous surveys, available at: www.who.int/infection-prevention/campaigns/ipc-global-survey-2019/en, are open until 16 July 2019.
Lancet Infect Dis 2018; 18: 1269-1277.
Lancet Infect Dis 2018; http://dx.doi.org/10.1016/S1473-3099(18)30598-X.