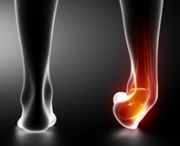 © CLIPAREA/CUSTUM MEDIA/ SHUTTERSTOCK
New framework developed for return to sport decisions after ankle sprain injury
By Dr Emily Lathlean MB BS, FRACGP
A new framework, based on international multidisciplinary consensus, has been suggested as a tool to guide return to sport (RTS) decisions following acute lateral ankle sprain injuries.
A group of international researchers conducted a three-round Delphi survey to develop consensus of opinion among 155 globally diverse health professionals working in elite field or court sports. In the first round, panellists were asked to indicate their agreement about whether or not assessment items should support the RTS decision after an acute lateral ankle sprain injury. The second and third round surveys included quantitative and qualitative feedback from the previous round. Consensus was defined as greater than 70% agree or disagree responses.
The study, published in the British Journal of Sports Medicine, found that 16 assessment items reached consensus to be included in the RTS decision after an acute lateral ankle sprain injury. These items were grouped in five domains to create the 'PAASS' framework:
Pain – during sport participation and over the last 24 hours
Ankle impairments – range of motion, muscle strength, endurance and power
Athlete perception – perceived ankle confidence/reassurance and stability; psychological readiness
Sensorimotor control – proprioception, dynamic postural control/balance
Sport/functional performance – hopping, jumping and agility; sport-specific drills; ability to complete a full training session.
Dr Anthony Nguyen, orthopaedic surgeon at the Royal Adelaide Hospital and Sportsmed SA, said he thought it was a useful study.
'Whilst a lot of the consensus assessment items may be essentially common sense to experienced sports physicians or physiotherapists, it can provide a framework or criteria to make return to sport following ankle sprain more structured,' he said.
The researchers noted that many people with a lateral ankle sprain injury do not seek formal medical treatment and return to sport prematurely, and proposed this can lead to recurrent ankle problems.
'Australian athletes participate in some of the most demanding sports on the ankle, due both to the high level of contact and a high propensity for sudden, forceful change of direction,' Dr Nguyen said. 'Thus, any research into this area has a high degree of clinical relevance.'
Dr Nguyen said he hoped to see future research address methods of measuring the consensus items, such as force plates to measure power and gait analysis to measure range of motion.
'If practitioners have these guides to stratify athlete rehabilitation progression, better informed judgement calls can be made to prevent further injuries and improve sporting performance,' he said.
Br J Sports Med 2021; doi:10.1136/bjsports-2021-104087.