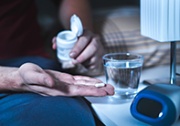 © TEROVESALAINEN.STOCK.ADOBE.COM
Night-time antihypertensive treatment may improve cardiovascular risk reduction
By Melanie Hinze
Routine taking of antihypertensive medication at bedtime, rather than on waking, may improve cardiovascular (CV) risk reduction without any increase in adverse effects, according to research published in the European Heart Journal.
The Hygia Chronotherapy Trial was a multicentre, controlled, prospective endpoint trial of 19,084 patients with hypertension, aged 60.5 ± 13.7 years. Patients were assigned in a 1:1 ratio into two parallel arms, where they either took their entire daily dose of blood pressure (BP)­ lowering medications at bedtime or upon waking. At baseline and during follow up patients' 48 hour ambulatory BP was measured.
Night­-time treatment resulted in significantly lower asleep mean BP without loss of awake BP­-lowering efficacy. It was also associated with greater sleep­time relative BP decline, resulting in a significantly lower prevalence of non­-dipping.
Over the median 6.3 years of follow up, patients who took their medication at bedtime had a significantly lower risk of the primary CVD outcome of myocardial infarction, coronary revascularisation, heart failure, stroke or death. A substantial beneficial risk reduction was also highly significant for the secondary endpoints of stroke, coronary events and cardiac events, analysed separately. Significantly better risk reduction was also noted for each of the single event classes, mainly CVD death, haemorrhagic stroke and peripheral artery disease. Additionally, safety of the bedtime dosing regimen was reported to be similar to the more common awaking one.
The study authors reported that progressive decrease in asleep systolic BP mean over the 6.3 years' follow up was the most significant predictor of reduced CVD risk.
Heart Foundation Cardiovascular Risk Reduction Manager, clinical pharmacist Natalie Raffoul, said, 'This study provides additional evidence pointing to the cardiovascular risk associated with nocturnal blood pressure elevation'.
'Evidence to support nocturnal dosing of antihypertensive medications, especially ACE inhibitors and ARBs, is growing and may indicate an important new understanding of blood pressure management.'
However, she added that results needed to be replicated in broader populations before strong conclusions could be drawn.
'Information or further studies to support the mechanism behind the large CVD benefit derived in the Hygia trial would also help to guide clinical practice' she said.
Eur Heart J 2019; 0: 1–12; doi:10.1093/eurheartj/ehz754.