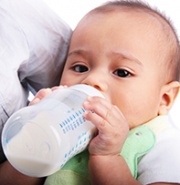 No role found for hydrolysed formula in preventing type 1 diabetes in infants at risk
By Nicole MacKee
Weaning infants at risk of type 1 diabetes to a hydrolysed infant formula does not reduce their risk of developing diabetes, according to a large randomised clinical trial that compared hydrolysed with conventional formula.
The Trial to Reduce Insulin-Dependent Diabetes Mellitus in the Genetically at Risk (TRIGR), recently published in the Journal of the American Medical Association, followed 2159 at-risk infants in 15 countries, including Australia, for an average of 11.5 years.
The researchers found that the absolute risk of developing type 1 diabetes was 8.4% among infants given casein hydrolysate formula (91 cases), and 7.6% among infants given conventional adapted cow's milk formula, supplemented with 20% of the casein hydrolysate (82 cases).
Infants included in the study had high leukocyte antigen-conferred disease susceptibility and a first-degree relative with type 1 diabetes. By 6 to 8 months of age, the infants in the study had been exposed to either hydrolysed or conventional formula for at least 60 days.
The researchers concluded that the findings did not support a revision of dietary recommendations for infants at risk of type 1 diabetes.
Associate Professor Michelle Jack, Clinical Associate Professor, Paediatric Endocrinology, Northern Clinical School, The University of Sydney, said the findings were sufficiently conclusive to rule out a role for hydrolysed formula in the prevention of type 1 diabetes in the at-risk population studied.
'Unfortunately, it was a negative study, but it does eliminate early exposure to cow's milk protein as being an important trigger in developing type 1 diabetes in infants at risk' said Professor Jack, who is also Director of Sydney Paediatric Endocrinology.
She said the 'magic bullet' for the prevention of type 1 diabetes in at-risk children remained elusive, but drugs such as abatacept and teplizumab had shown promise in preliminary investigations and further studies were underway.
'The sentiment now is that combinations of drugs may be needed to prevent the development of type 1 diabetes in children,' she said.
All eyes were now on The Environmental Determinants of Diabetes in the Young (TEDDY) study (https://teddy.epi.usf.edu) in the hope that this large trial might identify some triggers for type 1 diabetes, she said.
'If we can find the triggers, we can start looking for the solutions,' Professor Jack told Medicine Today.
JAMA 2018; 319: 38-48.
Picture credit: © Monart Design stock.adobe.com
Model used for illustrative purposes only