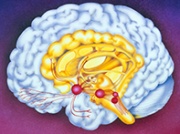 Opioid use disorder: significantly increased mortality
By Bianca Nogrady
Opioid use disorder is associated with a 10-fold higher mortality than that expected in the general population, new research suggests.
In a paper published in the Journal of Addiction Medicine, researchers examined the electronic health records of 2576 patients with opioid use disorder in a large US university health system and linked these with mortality data. They found that these patients had a standardised mortality ratio of 10.3 compared with that expected in the general population, after adjusting for sex and age.
The overall mortality was 18.1%, and the mean age at death was 51 years. Those who died during the eight-year-long study were more likely to have been diagnosed with opioid use disorder at an older age and more likely to be male, black and not have health insurance.
The most common cause of death was drug overdose and disorder, followed by cardiovascular disease, cancer, and infectious diseases such as hepatitis C. Patients who died were also more likely to have been diagnosed with other substance use disorders, particularly involving tobacco, alcohol, cannabis or cocaine, and to have comorbidities such as heart disease, respiratory disease, hepatitis C infection, liver disease, cancer or diabetes.
Concurrent hepatitis C virus infection and alcohol use disorder were the two strongest indicators of overall mortality risk, although none of the factors examined were clinically meaningful predictors of drug-related deaths.
'The alarmingly high morbidity and mortality among OUD [opioid use disorder] patients revealed in the present study challenge healthcare systems to find new and innovative ways to expand evidence-based strategies for OUD in a variety of settings,' the researchers wrote.
Commenting on the study, Dr Suzanne Nielsen, senior researcher at the National Drug and Alcohol Research Centre at UNSW, Sydney, said the findings highlighted the significant disease burden associated with opioid use disorder, and in particular the impact of comorbidities such as mental health conditions, other substance use disorders and chronic pain.
'It's important to understand that this is a population with multiple and complex needs,' she told Medicine Today.
Although Australia has the advantage over the USA in better universal healthcare coverage and wider access to hepatitis C and opioid agonist treatments, Dr Nielsen stressed the importance of screening for opioid use disorders, as well as screening patients with opioid use disorders for other health conditions to help ensure appropriate treatment is offered.
'We do have better access to opioid agonist treatments in primary care and we know that being in treatment is associated with lower mortality.
J Addiction Med 2017; doi: 10.1097/ADM.0000000000000312. 
Picture credit: © Kairos, Latin Stock/SPL