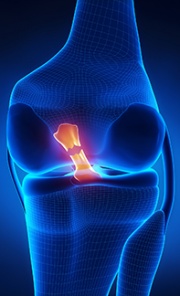 © JANULLA/ISTOCKPHOTO.COM
Oral contraceptives may provide protection against ACL tears
By Rebecca Jenkins
Women who take the oral contraceptive pill (OCP) have some protection against anterior cruciate ligament (ACL) tears, a large observational study has found.
Drawing information from 165,748 women aged 19 to 49 years on a US medical insurance database, researchers found 465 women needed surgery for ACL tears in the half using oral contraceptives compared with 569 in a matched control group not taking the drugs.
The analysis of prescription and insurance information between 2007 and 2017 showed the OCP gave an 18% risk reduction in the need for ACL surgery and a number needed to treat (NNT) of 769. However, this protective effect was largely driven by women aged 15 to 19 years, who experienced a 63% reduction in the risk of having an ACL reconstruction while taking the OCP (NNT = six), researchers reported in The Physician and Sportsmedicine.
Associate Professor Christopher Vertullo, a specialist knee orthopaedic surgeon and Director of Knee Research Australia, said this study added to an increasing body of evidence that OCP use is associated with a subsequent reduced risk of ACL reconstruction, but it was too soon to start prescribing the pill for ACL tear prevention.
'This study used insurance billing data and, although it has a large number of individuals, it suffers from confounders inherent in all observational data of this type,' he told Medicine Today.
'Unfortunately, no multicentre randomised controlled trials exist, hence it remains an association, at moderate risk of bias. In addition, other factors need exploration, such as optimum dose and type of OCP.'
It was plausible that the OCP protected against ACL tears by decreasing relaxin production and/or cyclic fluctuations of oestrogen, but the exact mechanism was unclear.
'Other studies have reported that OCP use is associated with less soft tissue laxity resulting in less forward translation of the tibia on the femur, a proxy for ACL laxity and subsequent injury risk,' he said.
Women aged 15 to 19 years who played high-risk pivoting sports such as AFL, netball and rugby, were at greatest ACL injury risk, Professor Vertullo noted. High-level evidence supported regular agility and plyometric training during the sport season for ACL protection.
'I currently would not recommend young athletes commence the OCP as low-bias randomised trials don't exist; however, I would certainly suggest to female athletes that the OCP may reduce their risk of injury if they were already taking it,' he said.
Phys Sportsmed 2019: 1-5; doi:10.1080/00913847.2019.1600334.