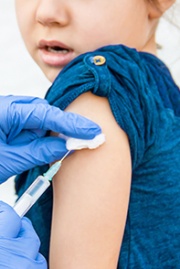 © YANADJAN/STOCK.ADOBE.COM MODEL USED FOR ILLUSTRATIVE PURPOSES ONLY
Paediatric pain: call for better understanding and treatment
By Rebecca Jenkins
More must be done to better understand and treat childhood pain says a major report from a multinational expert group of pain specialists.
The Lancet Child & Adolescent Health Commission on paediatric pain has set out four goals to transform the lives of children and adolescents with pain: make pain matter, make pain understood, make pain visible and make pain better.
'Pain is multifactorial, and influenced by biological, psychological, and social factors making it complex and difficult to treat effectively,' wrote the expert group led by clinicians at the Centre for Pain Research at the UK's University of Bath.
'Despite the ubiquity of pain, it remains poorly understood in infants, children, and adolescents.'
The group called for the adoption of best pain manage­ment practices when treating children experiencing any type of pain – from routine immunisation to cancer pain management.
For example, vaccination represented a substantial number of painful procedures among children, yet in many cases vaccination pain relief guidelines were not followed, increasing the risk of future needle phobia and avoidance.
'Child pain matters. But not, it seems, to everyone – not for every child, and not for every pain. The pain community has to work harder to make child pain matter to all, understood and visible, and to make it important enough to bring out into the open and to be acted upon,' the authors concluded.
Welcoming the report, Dr Susie Lord, Pain Specialist at the Children's Complex Pain Service at John Hunter Chil­dren's Hospital in Newcastle, NSW, noted the authors had consulted widely, including canvassing a multidisciplinary group of Australian clinicians, to ensure a global perspective.
'This Lancet Commission is a hallmark paper that articulates current knowledge, gaps and research priorities to improve children's futures,' Dr Lord told Medicine Today.
'It recognises that science is not always enough to change practice; public awareness and policy are needed to translate knowledge into action.'
Equity of access was among the concerns raised in the report, Dr Lord said, adding there was emerging evidence of inequity in Australia based on socioeconomic status, geographical distance from services and cultural barriers, particularly for Aboriginal and Torres Strait Islander (First Nations) peoples.
Australia led the world in developing a national pain strategy in 2010, Dr Lord said, which was then translated into a National Strategic Action Plan for Pain Management 2019.
The plan highlighted the need to address inequity and the particular needs of children experiencing pain, aligning well with the Lancet Child & Adolescent Health Commission's recommended priorities for policy makers and funders.
'The challenge now is to make children's pain sufficiently visible to the Australian public and politicians, so we might see concrete commitment to actions,' she said.
Lancet Child Adolesc Health 2020; https://doi.org/10.1016/S2352-4642(20)30277-7.