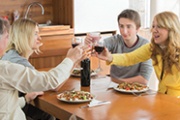 © BRANKO PHOTO/ISTOCKPHOTO.COM MODELS USED FOR ILLUSTRATIVE PURPOSES ONLY
Parental supply of alcohol associated with risk, not protection
By Jane Lewis
Parental supply of alcohol to children is linked with adverse drinking outcomes, and parents are an important target for prevention, say the authors of an Australian study published recently in The Lancet Public Health.
Some parents supply alcohol to their children on the assumption they are reducing the risk of alcohol-related harm, yet longitudinal research on the risks associated with such supply is absent, the study authors wrote.
'Our results reinforce the fact that alcohol consumption leads to harm, no matter how it is supplied,' lead author, Professor Richard Mattick from the National Drug & Alcohol Research Centre, University of New South Wales, Sydney, told Medicine Today. 'To reduce the risk of alcohol-related harm, parents should avoid supplying alcohol to children.'
The prospective cohort study used data from the Australian Parental Supply of Alcohol Longitudinal Study, which surveyed 1927 children annually from a mean age of 12.9 years to a mean age of 17.8 years. Adolescents who were supplied with alcohol only by their parents had higher odds of adverse drinking-related outcomes, including binge consumption (more than four drinks on a single occasion; odds ratio [OR], 2.58), alcohol-related harm (OR, 2.53) and symptoms of alcohol-use disorder (OR, 2.51), compared with those reporting no supply. Adolescents supplied with alcohol from nonparental sources had an even greater increased risk of adverse outcomes. Analysis of the relationship between supply sources showed that parental supply was linked with increased odds of later other supply.
'Our study shows that there is no rationale for parents to give alcohol to adolescents younger than the legal purchase age,' Professor Mattick said. 'Parents should be advised that the practice of providing their adolescents with alcohol is associated with risk, not only directly, but also indirectly through increased access to alcohol from other sources.'
The authors acknowledged the study had limitations, including under-representation of teenagers from low socioeconomic status backgrounds. They also noted their research did not account for the amount of alcohol supplied by parents, or the context in which it was given.
The authors of a comment accompanying the study said the findings 'strongly refute the view that parental supply of alcohol promotes safer drinking.' However, they wrote, 'before drawing firm conclusions, it will be important to replicate this finding in larger samples that permit more granular characterisation of both exposures and outcomes, and in samples with at least proportionate representation of socioeconomically disadvantaged families.'
Lancet Public Health 2018; http://dx.doi.org/10.1016/S2468-2667(17)30240-2.
Lancet Public Health 2018; http://dx.doi.10.1016/S2468-2667(18)30006-9.