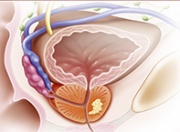 © BSIP/JACOPIN/DIOMEDIA.COM
Poor adherence to active surveillance in men with low-risk prostate cancer
By Rebecca Jenkins
Almost three-quarters of men diagnosed with low-risk prostate cancer are not receiving the follow-up investigations needed for active surveillance (AS), an Australian cohort study has found.
Analysing Victorian health registry data from 1635 men managed with AS after a low-risk prostate cancer diagnosis, researchers found only 433 (26.5%) received adequate monitoring: at least three PSA measurements  and one biopsy in the two years following diagnosis.
Writing in the Medical Journal of Australia, researchers warned men 'may miss the opportunity to be treated with curative intent' if they were not monitored according to AS protocols.
Men diagnosed in private hospitals were more likely to adhere to follow up than those diagnosed in public hospitals,  a finding researchers suggested could be linked to continuity  of care and resources to pursue patients for testing. Those diagnosed by transurethral resection of the prostate or transperineal biopsy were less likely to adhere than those diagnosed by transrectal ultrasound-guided biopsy. 
Age also played a part, with men aged 66 years or more at diagnosis being less likely to follow an adequate AS protocol than those aged under 55 years.
Coauthor Professor Mark Frydenberg, urologist and former President of the Urological Society of Australia and New Zealand, said the study highlighted several hurdles to providing AS that needed further exploration, but suggested there could be a greater role for GPs in shared care of these patients. 
GPs certainly had a crucial role in educating men, and their spouses, he told Medicine Today.
'A good consult is invaluable. There needs to be really good patient education about the disease, so that patients don't get anxious about the diagnosis but they still recognise that it's a tumour and there will be some people who get worse and we need to identify them in a timely fashion,' he said.
To be eligible for the study, men had to be diagnosed with prostate cancer between August 2008 and December 2014, be aged 75 years or less at diagnosis, be managed by AS for at least two years and have International Society of Urological Pathology (ISUP) grade group three or less.
Med J Aust 2018; 208: 439-443.