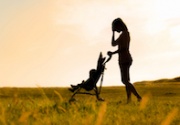 © GLOBAL MOMENTS/SHUTTERSTOCK
Postnatal depression: prioritising treatment for those most in need
By Jane Lewis
Persistent, severe postnatal depression (PND) substantially increases the risk for adverse out comes on all child measures, and women with the condition should be prioritised for treatment, suggests new research published in JAMA Psychiatry.
Commenting on the research, Professor Anne Buist, Director of Women's Mental Health at Austin Health and the University of Melbourne, said research over the past 20 years 'had been consistent in showing a potential impact of maternal depression on infant development and later mental health,' and the current study added further to this knowledge.
The research was based on a sample of 9848 mothers (mean age of delivery, 28.5 years) from the Avon Longitudinal Study of Parents and Children, an ongoing UK population-based study on the overall health of children. The self-rated Edinburgh Postnatal Depression Scale was used to define three levels of PND severity: moderate, marked and severe, with depression defined as persistent if measured at any of these levels at both two months and eight months after childbirth.
Children born to mothers with PND at any of the three severity levels, whether persistent or not, had an increased risk of behaviour disturbance, with odds ratios (OR) of 2.2, 1.91 and 2.39 for moderate, marked and severe PND, respectively. However, children of women with persistent severe PND were more likely to have behavioural problems at 3.5 years of age (OR, 4.84), lower maths grades at 16 years of age (OR, 2.65) and an increased risk of depression at 18 years (OR, 7.44).
Women with persistent PND were found to have elevated depressive symptoms up to 11 years after childbirth, compared with women with PND that was not persistent or scored below the moderate threshold.
The author of an accompanying editorial pointed out that although there was 'ample evidence' for the efficacy of treatments for depression, more research was needed to understand whether to treat depression in the mother first, when to intervene with the mother and her infant and young children, and what treatment to use. Regardless, the editorialist argued, screening for depression in mothers could be extended to one year after delivery to capture persisting postpartum depression.
'As a perinatal psychiatrist, the evidence to me is clear,' Professor Buist told Medicine Today. 'Treat the mother assertively and as early as possible, and then review the mother–infant relationship and focus on this in cases where the maternal depression treatment has not been enough to shift the changeable relationship factors that will impact on the child.'
JAMA Psych 2018; doi:10.1001/jamapsychiatry.2017.4363 
JAMA Psych 2018; doi:10.1001/jamapsychiatry.2017.E1-E2.