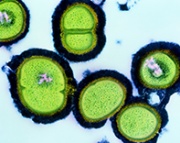 Potential public health benefits in confirming penicillin allergy
By Melanie Hinze
Systematic efforts to confirm or rule out penicillin allergy may be an important public health strategy to reduce the incidence of methicillin-resistant Staphylococcus aureus (MRSA) and Clostridium difficile infection, according to research published in the BMJ.
The study found that people with a listed penicillin allergy had a statistically significantly increased risk of contracting MRSA and C. difficile infection, possibly due to the use of broad-spectrum alternative antibiotics. Despite this, the study authors noted that about 95% of patients with a recorded penicillin allergy would be found not to be truly allergic if tested by an allergist.
The population-based, matched cohort study investigated 64,141 adult patients with a listed penicillin allergy and 237,258 age-, sex- and study entry time-matched comparators who were enrolled in the UK's Health Improvement Network database between 1995 and 2015.
Over a mean six-year follow-up period, patients with a recorded penicillin allergy had a 69% and 26% greater risk of contracting MRSA or C. difficile, respectively, than matched controls.
Additionally, once documented, a penicillin allergy was linked with about a fourfold increased incidence of macrolide and clindamycin use and a twofold increased incidence of fluoroquinolone use.
The authors reported that more than half the increased MRSA risk and 35% of the increased C. difficile risk was attributed to the use of anti- biotic alternatives to beta-lactams.
Associate Professor Thomas Gottlieb, Senior Staff Specialist in Microbiology and Infectious Diseases at Concord Hospital, Sydney, told Medicine Today this research showed that as you moved away from nonpenicillin antibiotics there was a higher risk of selecting out a more resistant organism such as MRSA or C. difficile.
'Most importantly, however, it suggests that a misidentification of someone as having penicillin allergy, and consequent use of unnecessarily broader-spectrum antibiotics, can have consequences that are not always anticipated – in that they may become more predisposed to acquisition of organisms such as MRSA and C. difficile.'
Avoiding labelling a patient as having penicillin allergy had many important implications for their long-term care and this study demonstrates an added incentive to avoid this, he said.
BMJ 2018; 361: k2400.