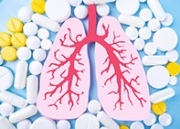 Potentially toxic cumulative doses of OCS dispensed to patients with asthma
By Rebecca Jenkins
One-quarter of patients with asthma using inhaled corticosteroids (ICS) are dispensed potentially toxic cumulative oral corticosteroid (OCS) doses, Australian data show.
In a retrospective cohort study analysing a 10% random sample of Pharmaceutical Benefits Scheme dispensing data for people aged 12 years and over, researchers found 124,011 people defined as having asthma had been dispensed at least two prescriptions of ICS during 2014 to 2018. Of these people, 64,112 (51.7%) had also been dispensed OCS, including 34,580 (27.9% of the asthma group) cumulatively dispensed 1000 mg prednisolone-equivalent or more.
'We estimate that almost 350,000 people with asthma were cumulatively dispensed 1000 mg oral prednisolone-equivalent or more during 2014–2018, a level associated with long-term systemic toxicity,' the authors wrote in the Medical Journal of Australia.
'While we did not specifically examine harms, we found that larger proportions of patients cumulatively dispensed 1000 mg prednisolone-equivalent or more were also dispensed medications for treating diabetes or osteoporosis than of people receiving lower amounts.'
The need for frequent short courses of long-term OCS therapy was neither 'benign nor acceptable', they concluded, adding their data showed many patients dispensed OCS were not adhering to appropriate ICS controller therapy.
Lead author Associate Professor Mark Hew, Head of Allergy, Asthma and Clinical Immunology at Melbourne's Alfred Hospital, said the data should make sobering reading for policy makers, specialists and GPs.
'Our health system would benefit from changes to optimise OCS prescribing and dispensing, including to allow monitoring of OCS use with data available and presented to prescribers at the point of care,' he told Medicine Today.
Where appropriate, he said that OCS dispensing packs should be limited to less than the 30 tablets x 25 mg with multiple repeats that were currently available, without financially penalising patients for more frequent dispensing of smaller quantities.
Professor Hew recommended allowing dispensing data on inhaled preventers to be available to prescribers so that inhaler underadherence could be addressed.
GPs were uniquely placed to examine why the patient destabilised in the first place and use the event to review the patient's overall ongoing management, Professor Hew noted.
'One specific issue our study did highlight was the under-adherence to inhaled preventer that occurs in half the patients having frequent exacerbations requiring OCS, so preventer adherence should definitely be kept in mind,' he said.
The study showed that in 2018, controller use was inadequate among 2316 (50%) of 4633 people with asthma using high dose ICS controllers who were dispensed 1000 mg prednisolone-equivalent or more.
'Finally, if patients have more than two exacerbations (and therefore require OCS) despite optimal therapy, they should be referred to specialists, who also have access to new and effective biologic therapies. In short, review, reflect and refer if appropriate,' he said.
Med J Aust 2020; 213: 316­320; doi: 10.5694/mja2.50758.