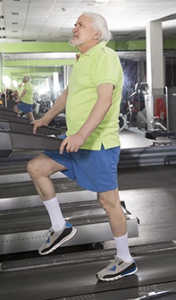 © 2707195204/STOCK.ADOBE.COM MODEL USED FOR ILLUSTRATIVE PURPOSES ONLY
Preoperative exercise could reduce postoperative cancer surgery complications
By Bianca Nogrady
A preoperative exercise program could reduce postoperative complications and duration of hospital stay in patients undergoing surgery for lung cancer, according to a report in the British Journal of Sports Medicine.
The review and meta-analysis of 13 interventional trials of preoperative exercise, involving 806 patients and six tumour types, found the strongest evidence of postoperative benefits in patients undergoing lung resection.
Data from five randomised controlled trials and one quasirandomised trial in patients with lung cancer showed a significant 48% reduction in postoperative complications and a significant mean reduction in hospital stay of 2.86 days among patients undergoing lung resection compared with controls.
The lung cancer studies mostly involved aerobic exercise such as walking, and breathing exercise to train respiratory muscles, as well as use of an exercise bicycle. These were undertaken in the one to two weeks before surgery, with a frequency ranging from three times a week to three times a day.
In other tumour types, there was some evidence of quality-of-life improvements in men undergoing radical prostatectomy who followed a program of preoperative pelvic floor muscle exercises, and also in patients having surgery for oral cancer who did preoperative mouthopening exercises. But, in both cases, the authors said the quality of the evidence was very low.
Lead author Dr Daniel Steffens from the Surgical Outcomes Research Centre at the Royal Prince Alfred Hospital, Sydney, and The University of Sydney, said the review came about because the research team were looking at ways to improve postoperative complication rates and speculated the preoperative physical activity levels might help.
'We believe that improving patients' physical health at the preoperative stage – and we know that even one session of exercise already improves their cardiopulmonary status – is going to result in quicker recovery at the postoperative stage,' Dr Steffens told Medicine Today.
He said the lack of benefit found in cancer types other than lung cancer was largely due to lack of studies – something he and colleagues were planning to address with a pilot study in their surgical oncology patients. 'For lung cancer patients we suggest that preoperative exercise improves postoperative surgical outcomes,' he said.
'For patients undergoing complex cancer surgery, any form of exercise at the preoperative stage is better than no exercise, and that could potentially reduce their postoperative complications and length of hospital stay.'
Br J Sports Med 2018; 52: 344.